This week i'm working on some boozy cupcakes for a Jimmy Buffet-esque party my family is throwing for some industry people...and by industry I mean oil and gas...because unfortunately I still have to work for "the man"...*le sigh*. Any-who, the point is that I'm having a blasty-blast experimenting with new flavors and recipes for these cupcakes. The first one that came to mind was a margarita cupcake....this is Texas after all!
I usually keep these posts very short and for good reason: I don't want to lose your attention. I actually have quite a lot to say about this recipe that I worked on last night, so bare with me it's worth the read. 
I'll begin by saying that I'm in a committed relationship with Swiss Meringue Buttercream and I have sworn many a time that I would never cheat on her...but sometimes you need to try new things...and boy am I glad I did! After some research, I decided to give American Buttercream a go. If you aren't familiar with the differences...google it. Google is your friend!
You'll find the recipe for this Tequila Lime Buttercream Frosting below. Follow me on this journey, because I have some tips for you for best results. 
Pictured above you can see the main components of this recipe, but I have to admit that some of the items I used aren't pictured because this was really a taste-as-you-go experiment...but don't worry, I took good notes! First off, if you haven't ever tried
Lorann's Oils
for baking, you're seriously missing out. This lime oil is perfection and pairs so nicely with sugar (cake, buttercream, candy...you name it). When I tasted it in my buttercream, I kid you not, my eye sparkled! It's THAT good!
For this Tequila Lime Buttercream Frosting, I started with two sticks of room temperature unsalted butter. But let's be real....ain't nobody got time to let butter come to room temperature.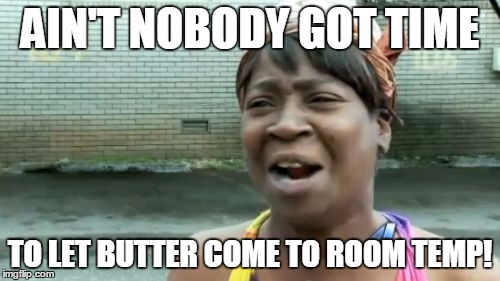 Zap it in the microwave for 20 seconds, beat it on high with your mixer for a few minutes and you are good to go!
The next important matter is the powder sugar. You MUST sift the powdered sugar. Have you ever had a frosting that was really grainy...and just had an unpleasant mouth feel....that's what happens when you dump a bunch of powdered sugar in butter (or shortening) and just assume it will come together. So trust me please, even if you are looking at the bag and it says it's been sifted 10x...sift it again!
Lastly, let's talk about the flavors. I first started with a teaspoon of
vanilla bean paste.
I am of the opinion that no recipe is complete without some vanilla; it goes with everything. Then i added the lime oil with an eye dropper - those vials are tiny! Use a very light hand on your lime oil, because as I found out...it can very easily over power the other flavors. Start with 3-4 drops and add more AFTER you've added the tequilla so that you don't accidentally hide the tequilla flavor like. I added my tequila a tablespoon at a time, 5 tablespoons ended up being my magic number, but I recommend doing it to taste. Once you are happy with your tequila flavor, you can go back in with  the lime (a drop at a time) to amp it up if needed. 
Tequila Lime Buttercream Frosting
2 Sticks Unsalted Butter - Room Temperature

2.5 Cups Sifted Powdered Sugar

1 Tbsp Heavy Cream

1 Tsp Vanilla Bean Paste or Vanilla Extract

5 Tbsp Tequila  - or to taste

3-5 drops Lime Oil - or to taste

Pinch of Salt
1. In your stand mixer, mix butter with paddle attachment until smooth - approximately 2 minutes

2. Add in half of the powdered sugar and mix on low speed. Add heavy cream remaining powdered sugar, and salt and continue to mix on low speed until smooth. Do not increase speed. 

3. Add in flavor a little at a time to taste. Continue to mix on low speed. 

4 Use immediately or refrigerate for up to 3 weeks; freeze up to 3 months. Frosting does not require refrigeration, but is recommended if not in use to extend shelf life.