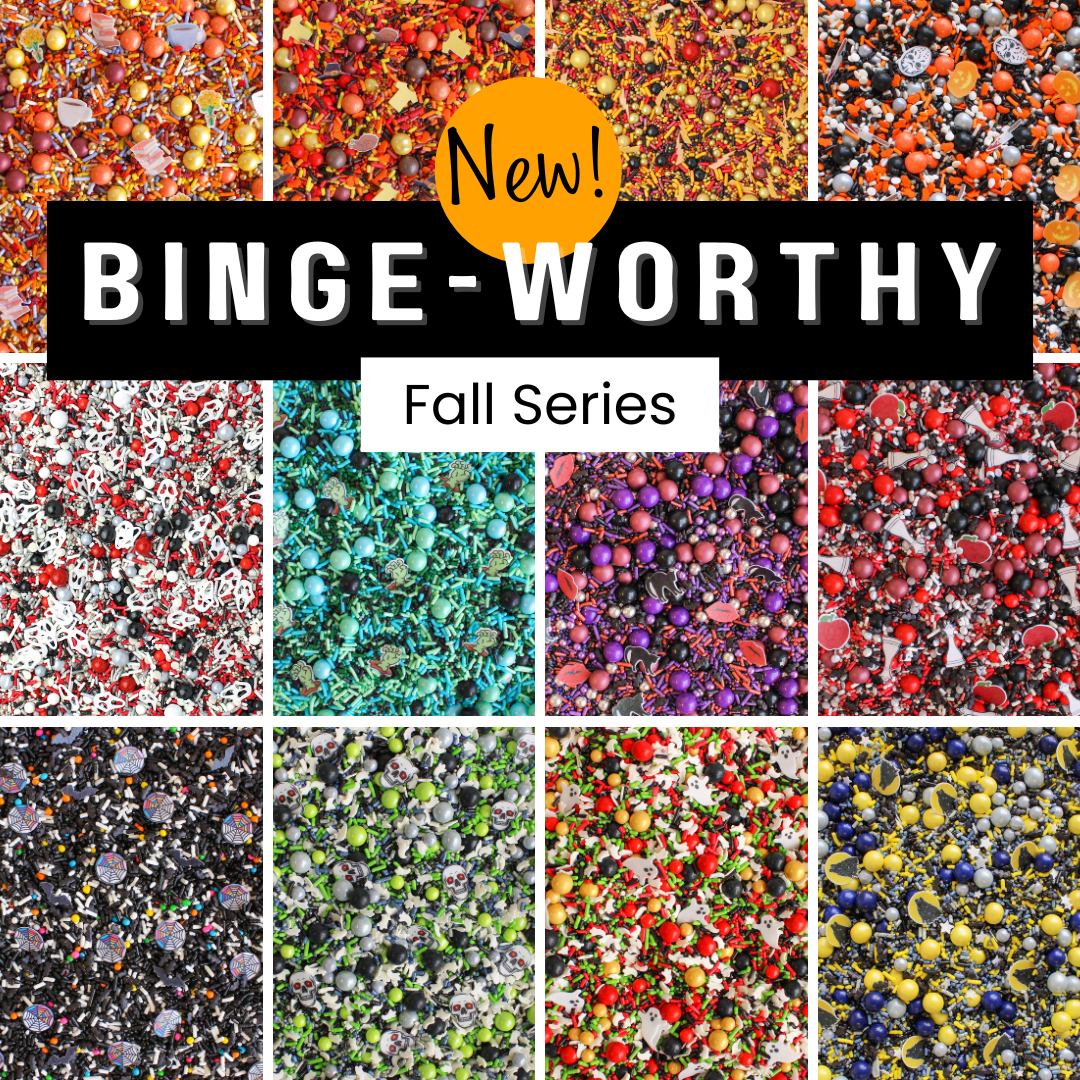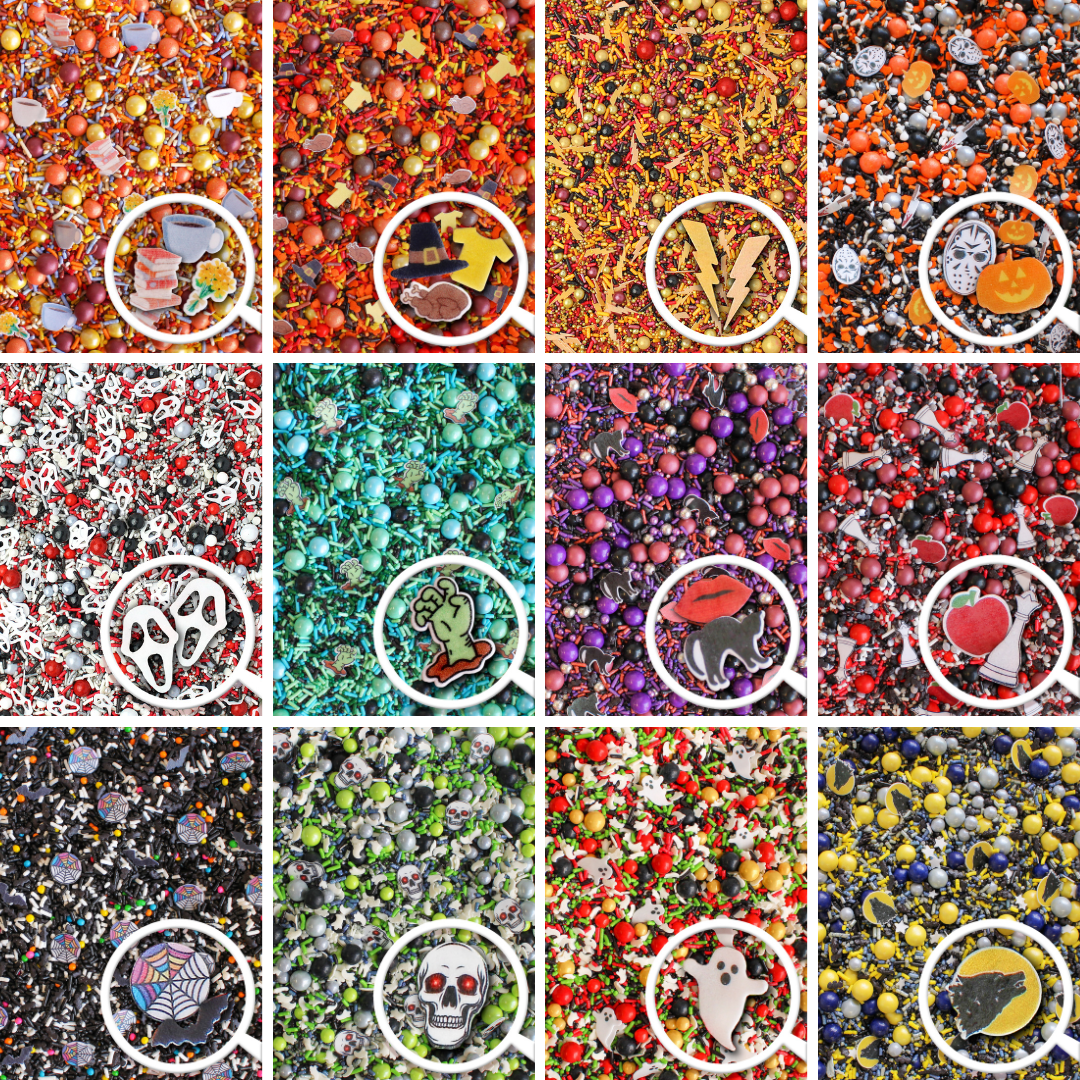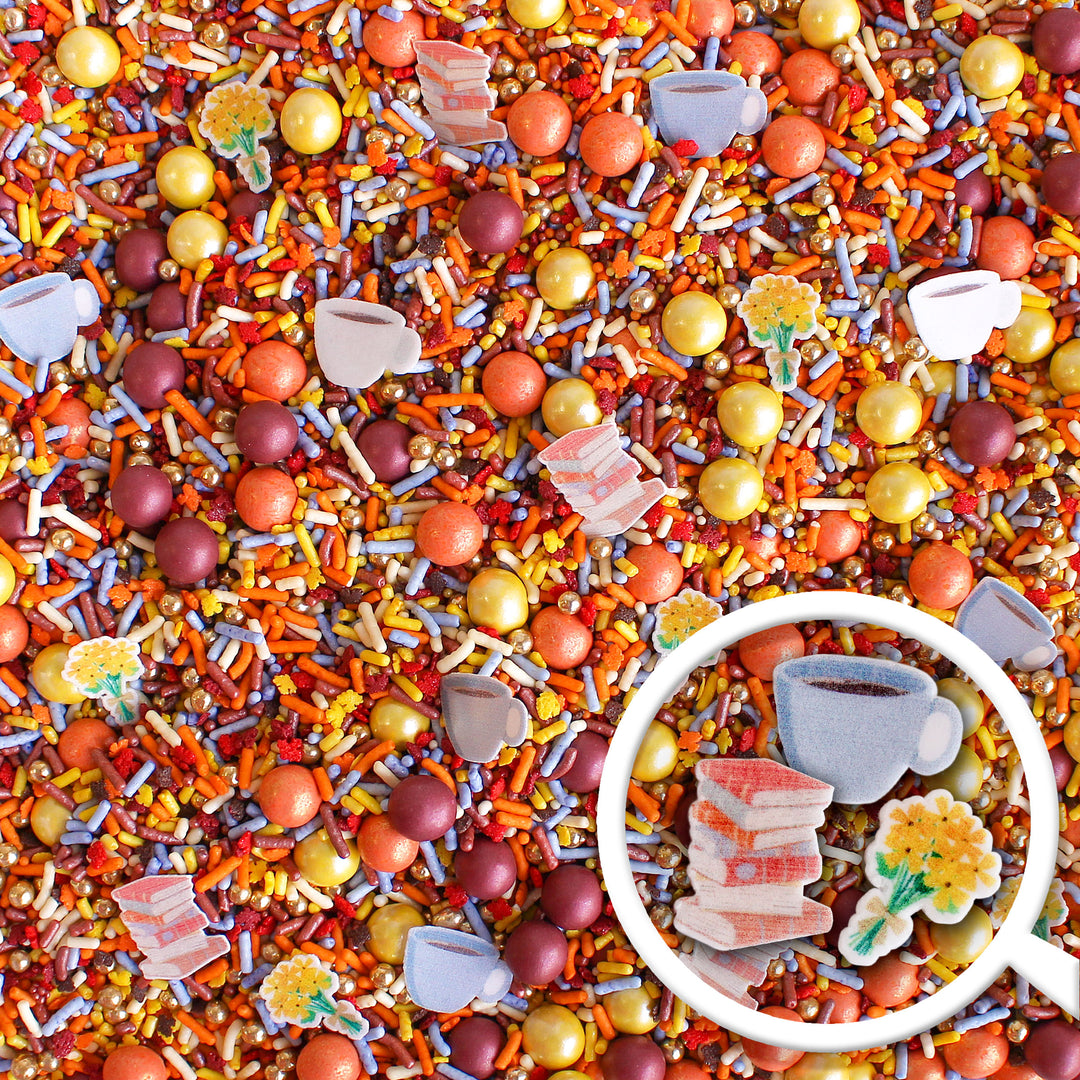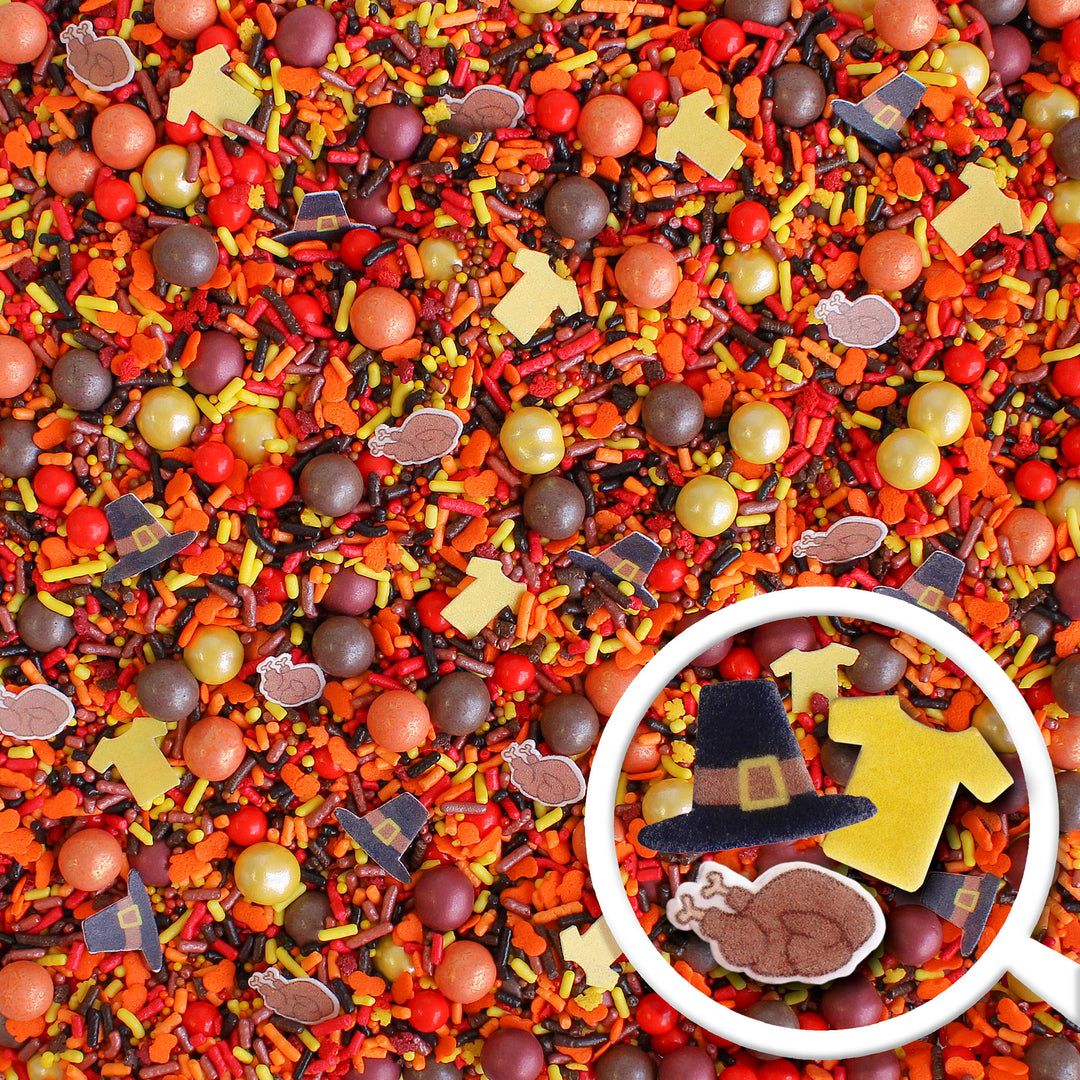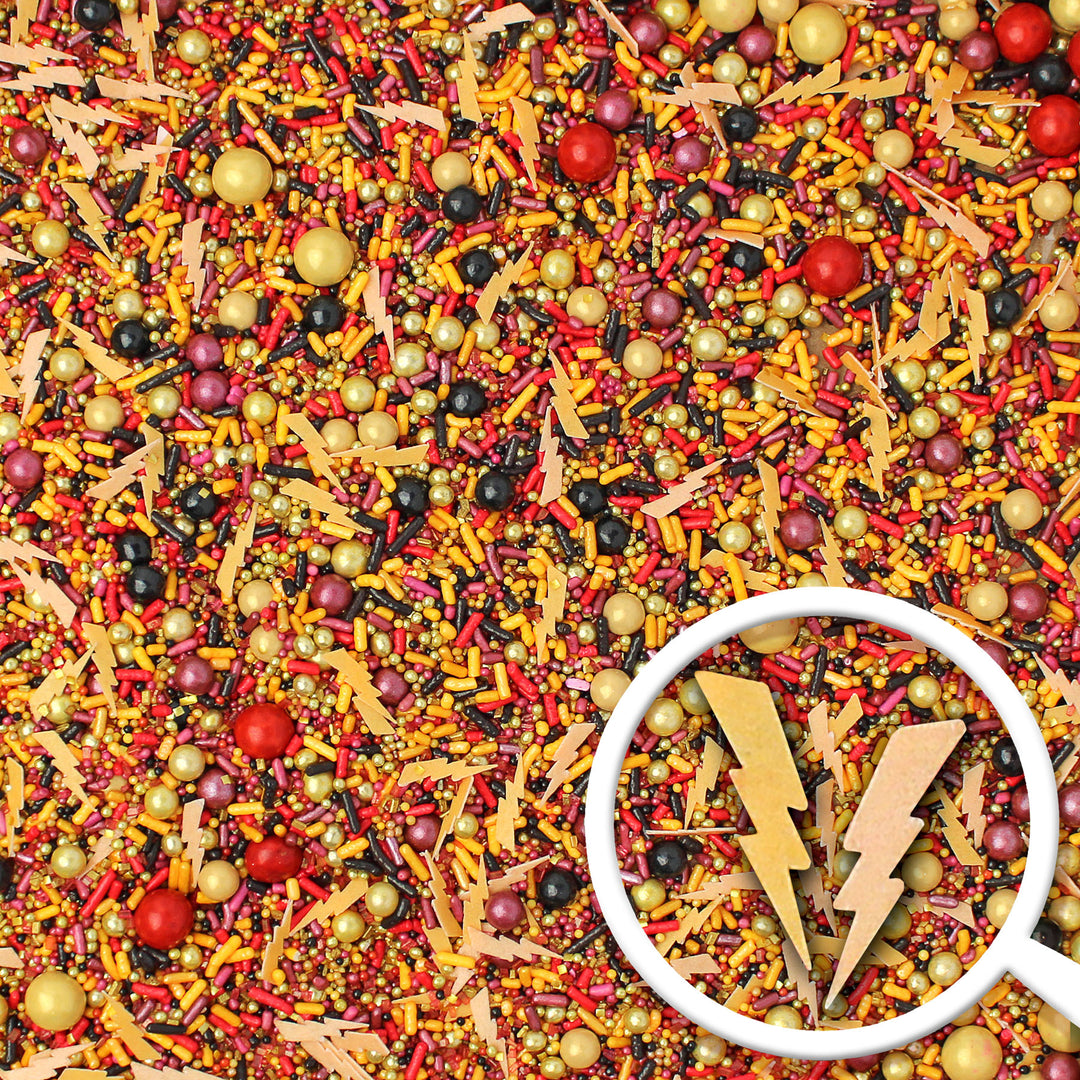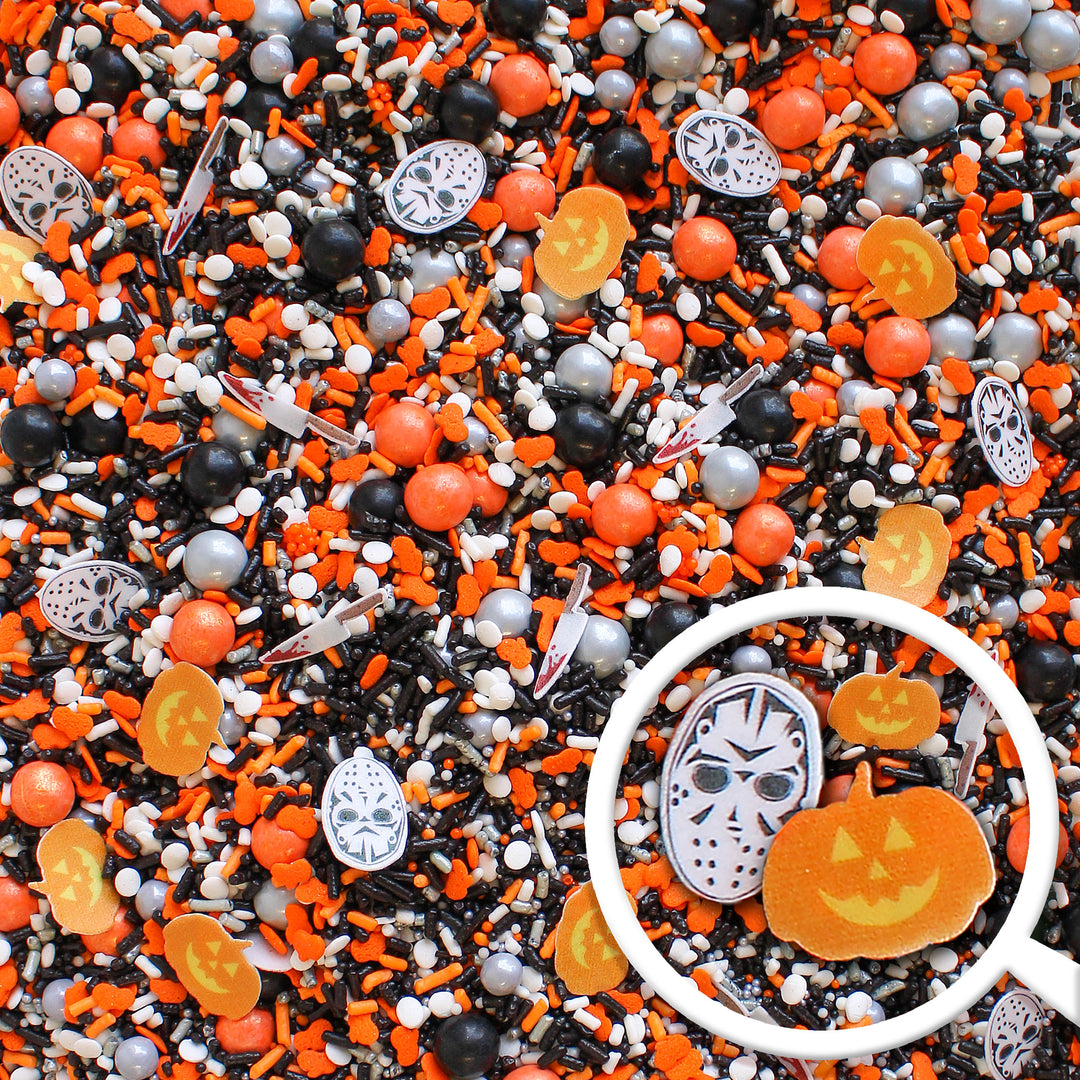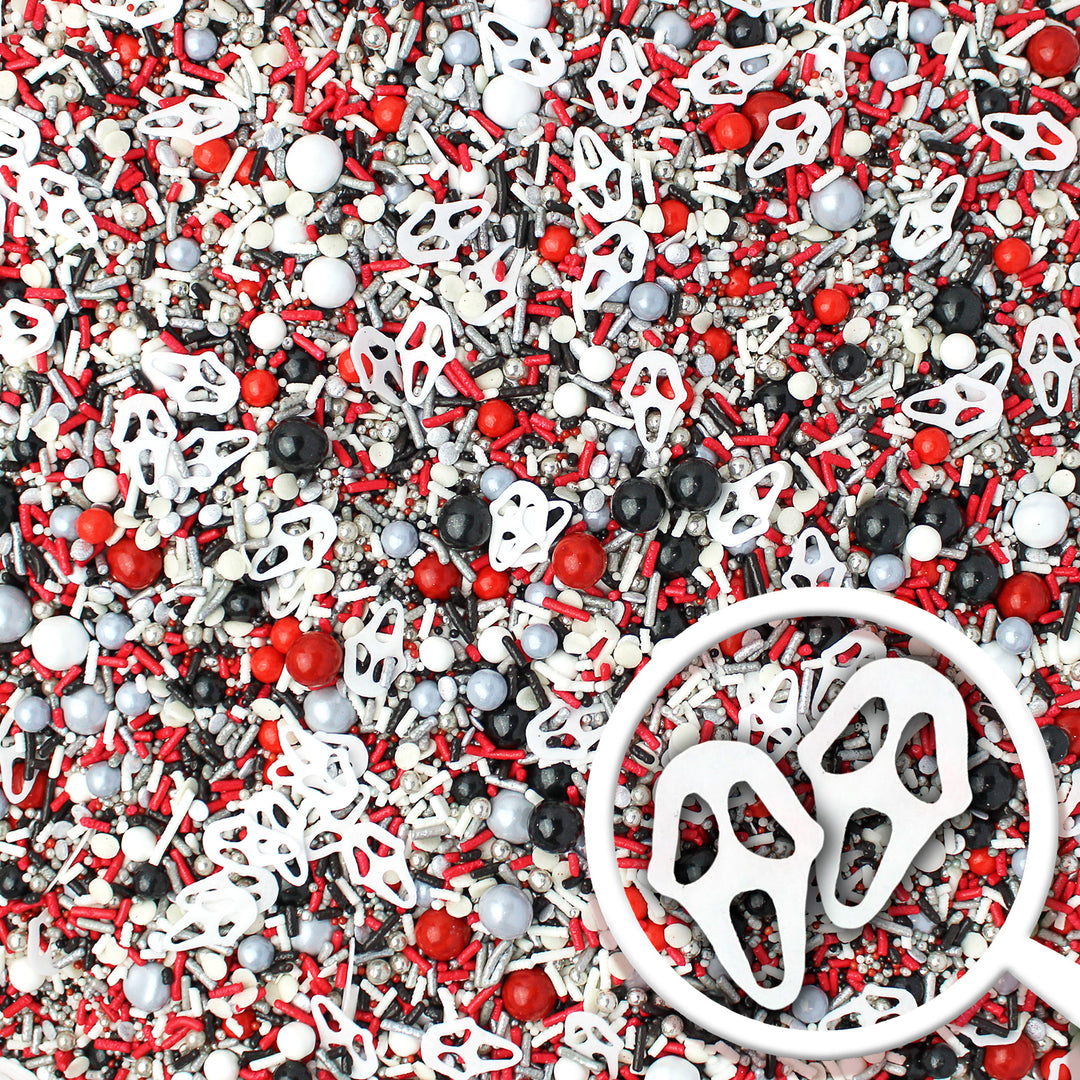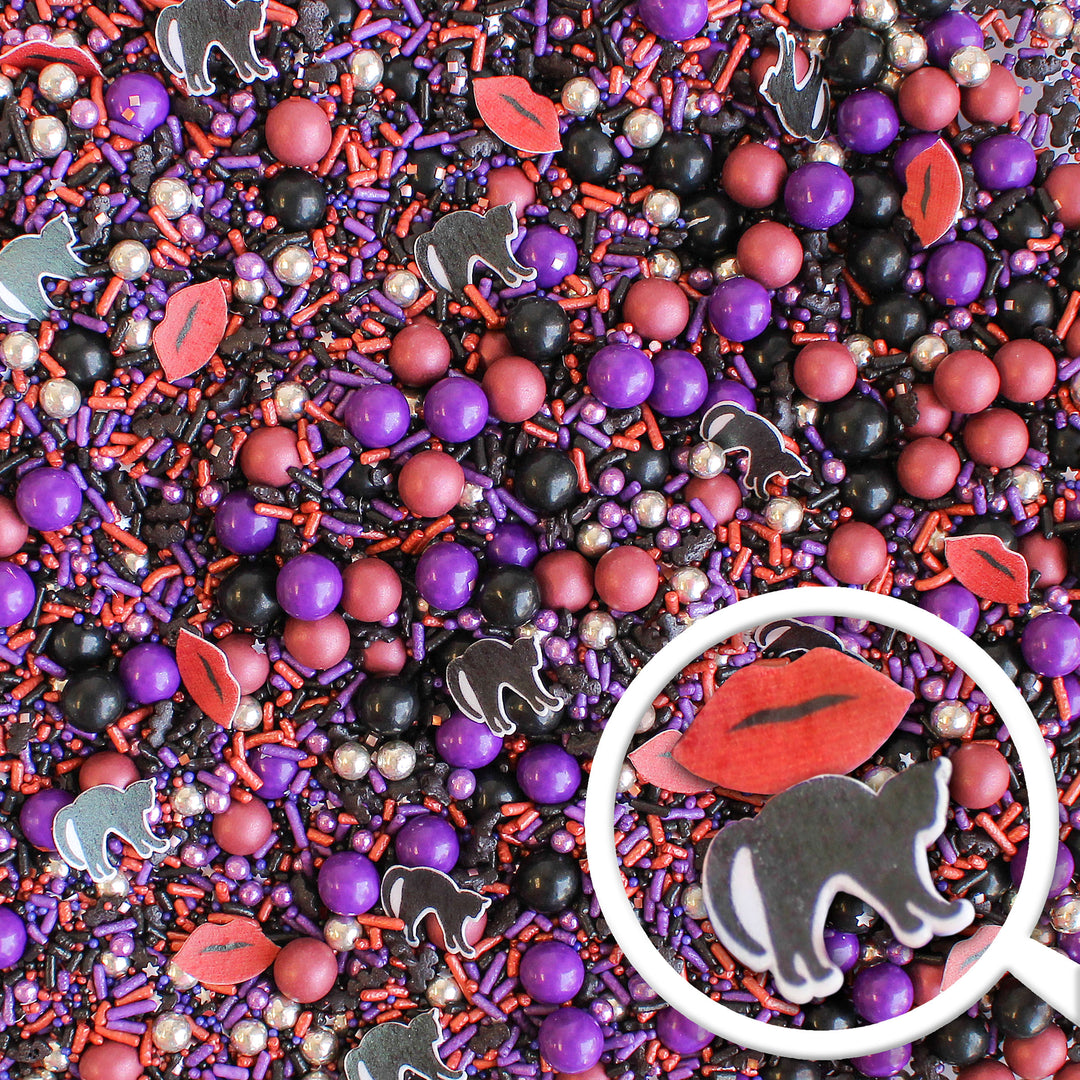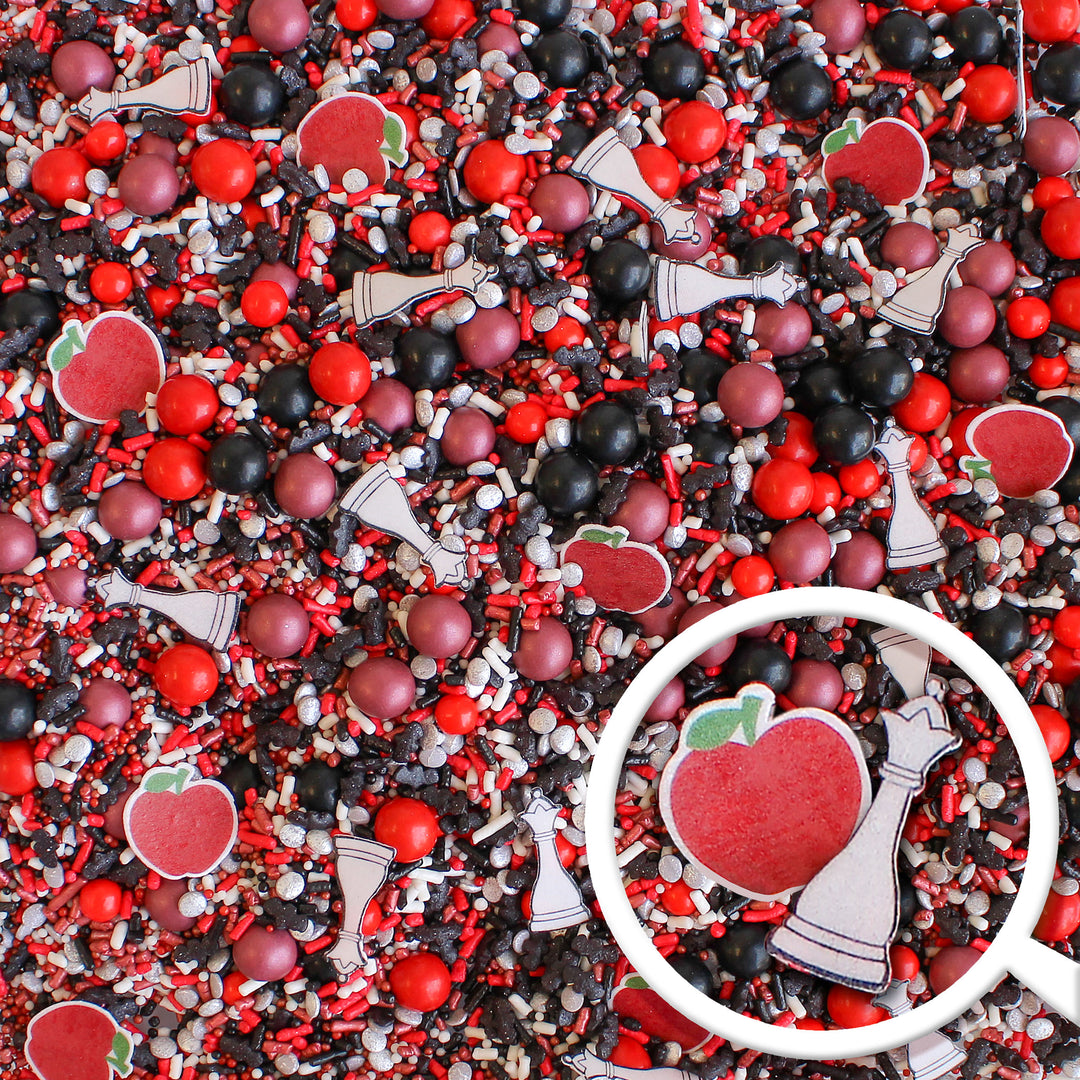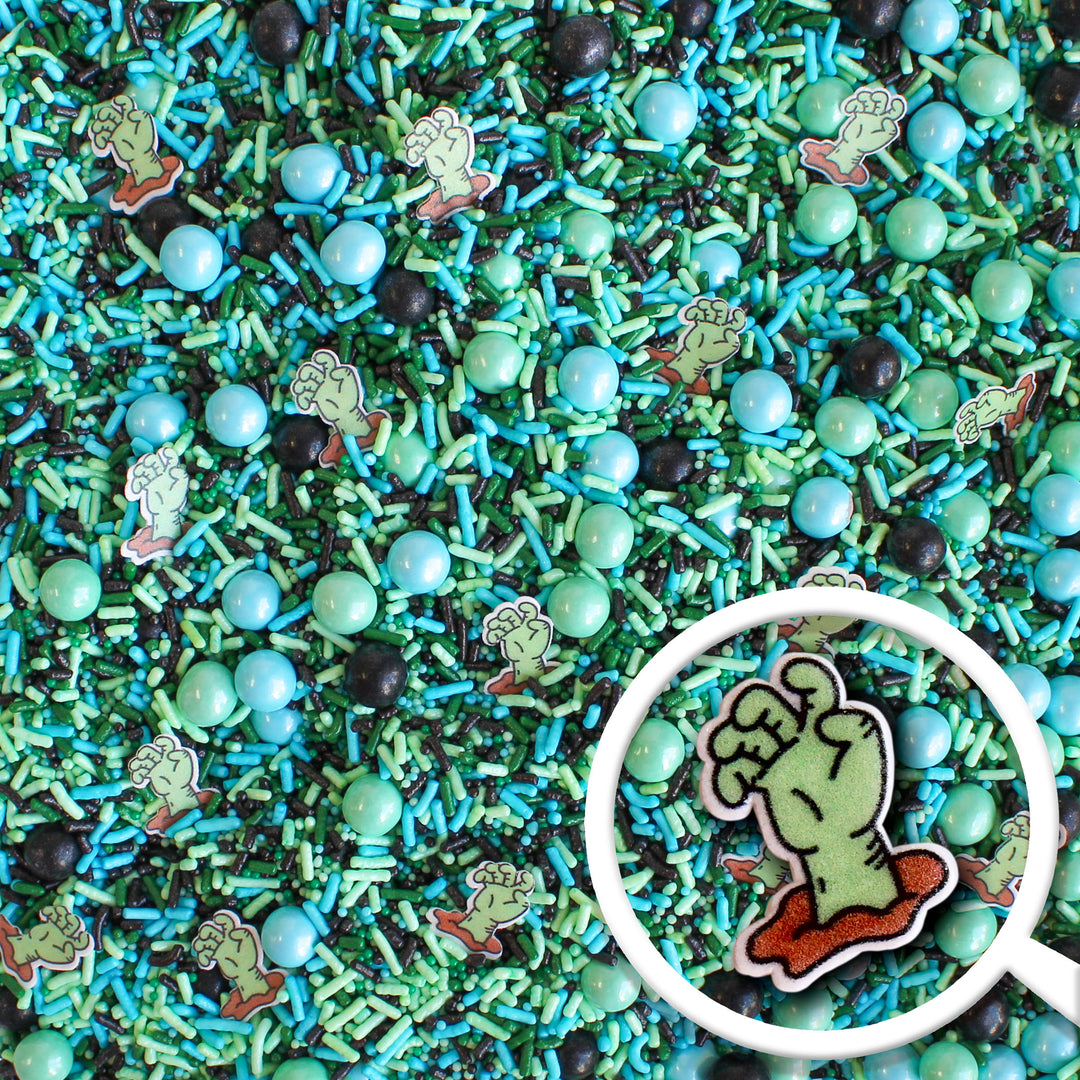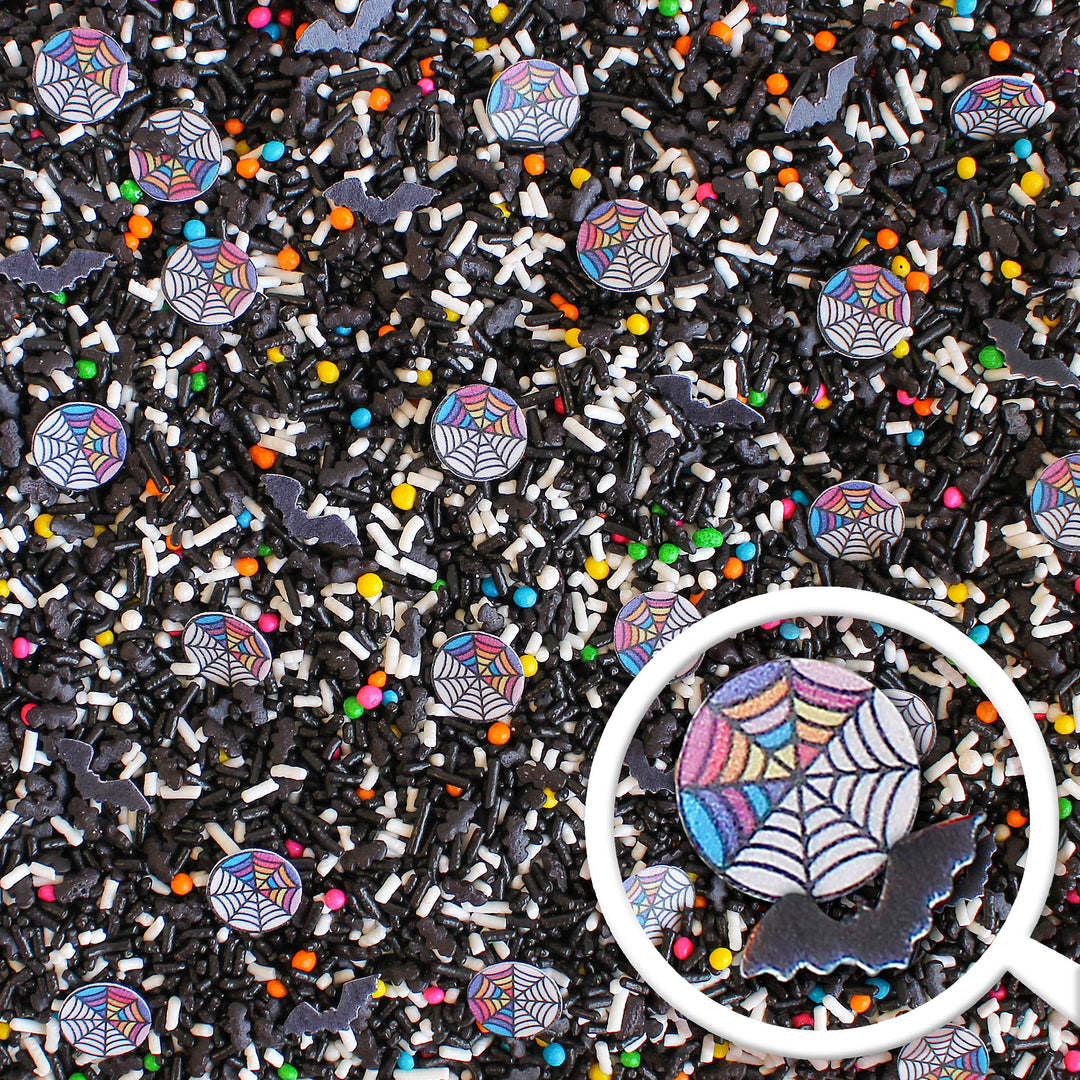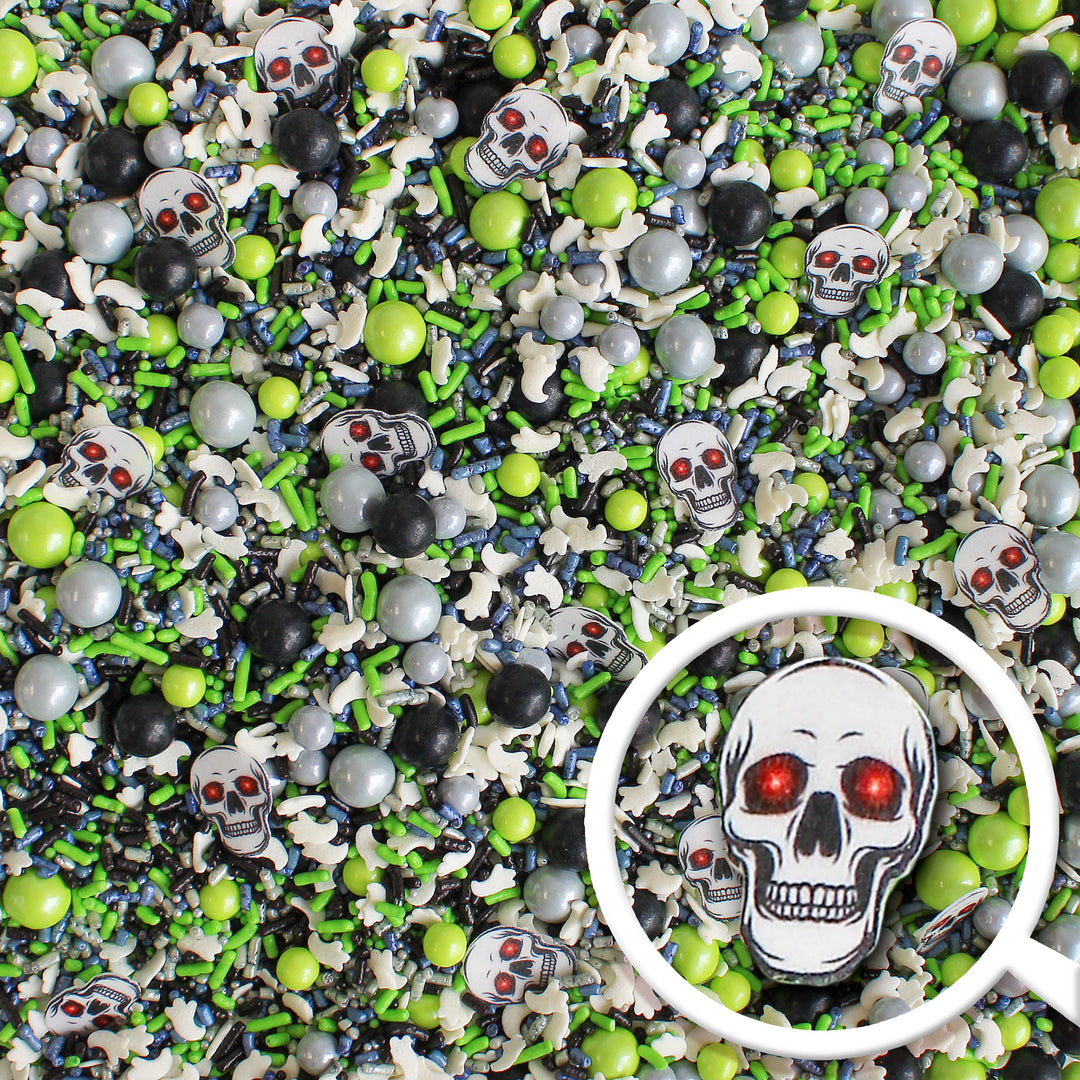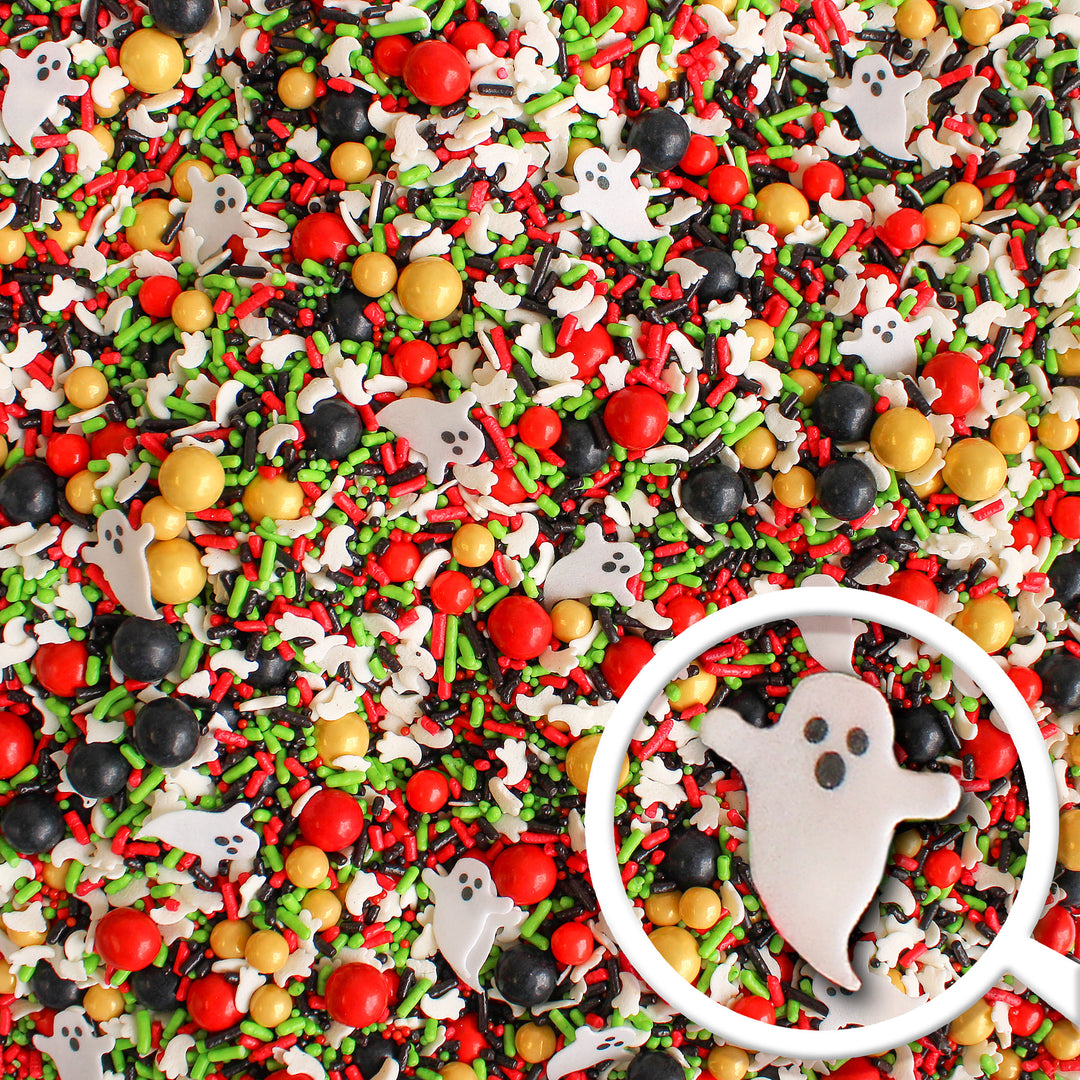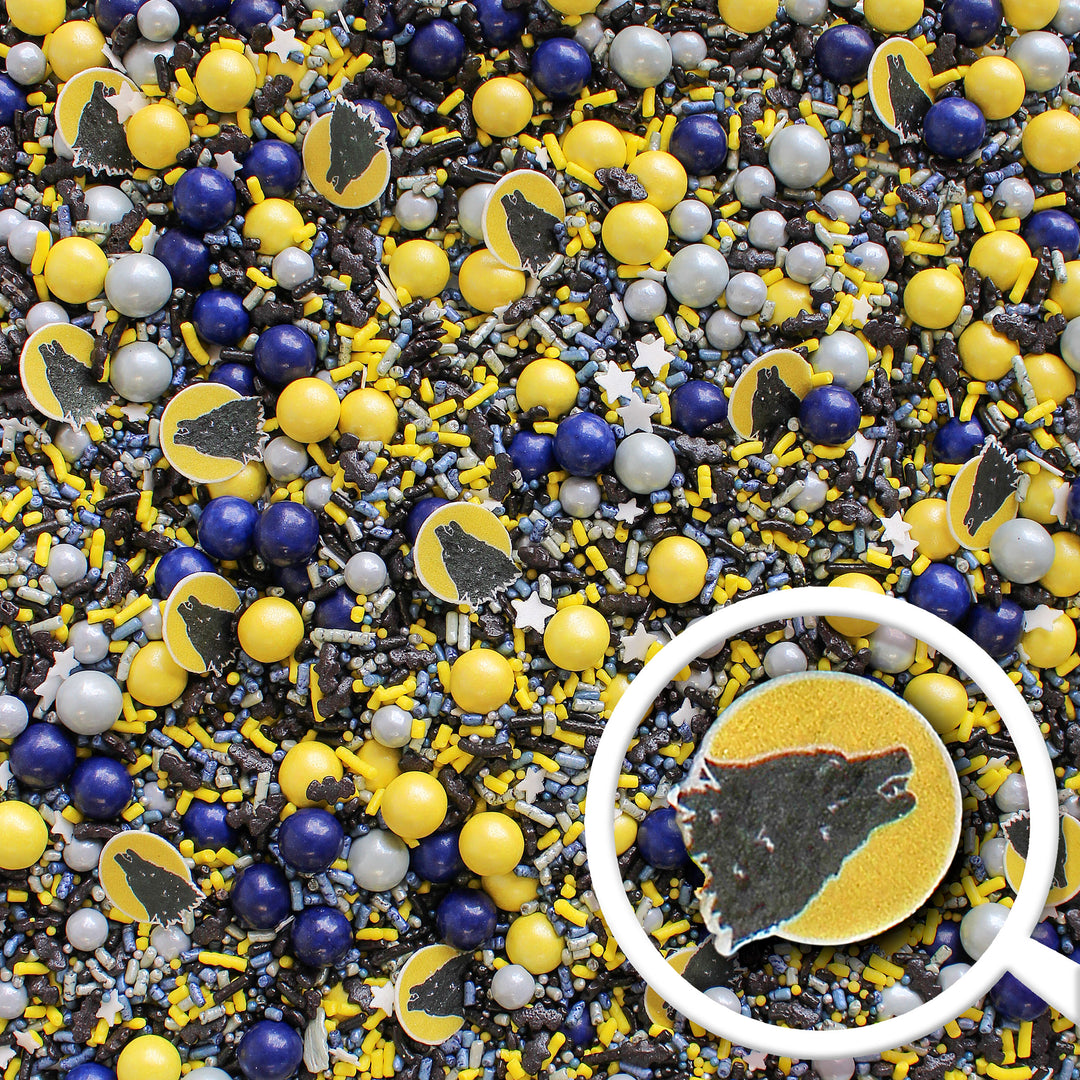 Binge-worthy Sprinkle Series
A collection of killer sprinkle mixes designed and inspired by our favorite fall shows and movies! Each week we'll reveal the inspo behind a mix along with some fun ideas on how to use it!
📱Get exclusive updates when a new inspo is revealed by joining by becoming a text subscriber!
Keep scrolling to check out all 12 mixes below! 👇🏻
Ghost Stories
Enter a realm of enchanting mystery with our Ghost Stories Sprinkle Mix. An eerie symphony of lime green, navy, silver, and black dances through this Halloween delight. Wafer skeleton heads and confetti ghosts add a touch of spectral charm to your treats, making them come alive with playful spookiness. Perfect for cake decorating, cookies, ice cream, and cupcakes, this mix brings the thrill of ghostly tales to every bite.
Inspo: Goosebumps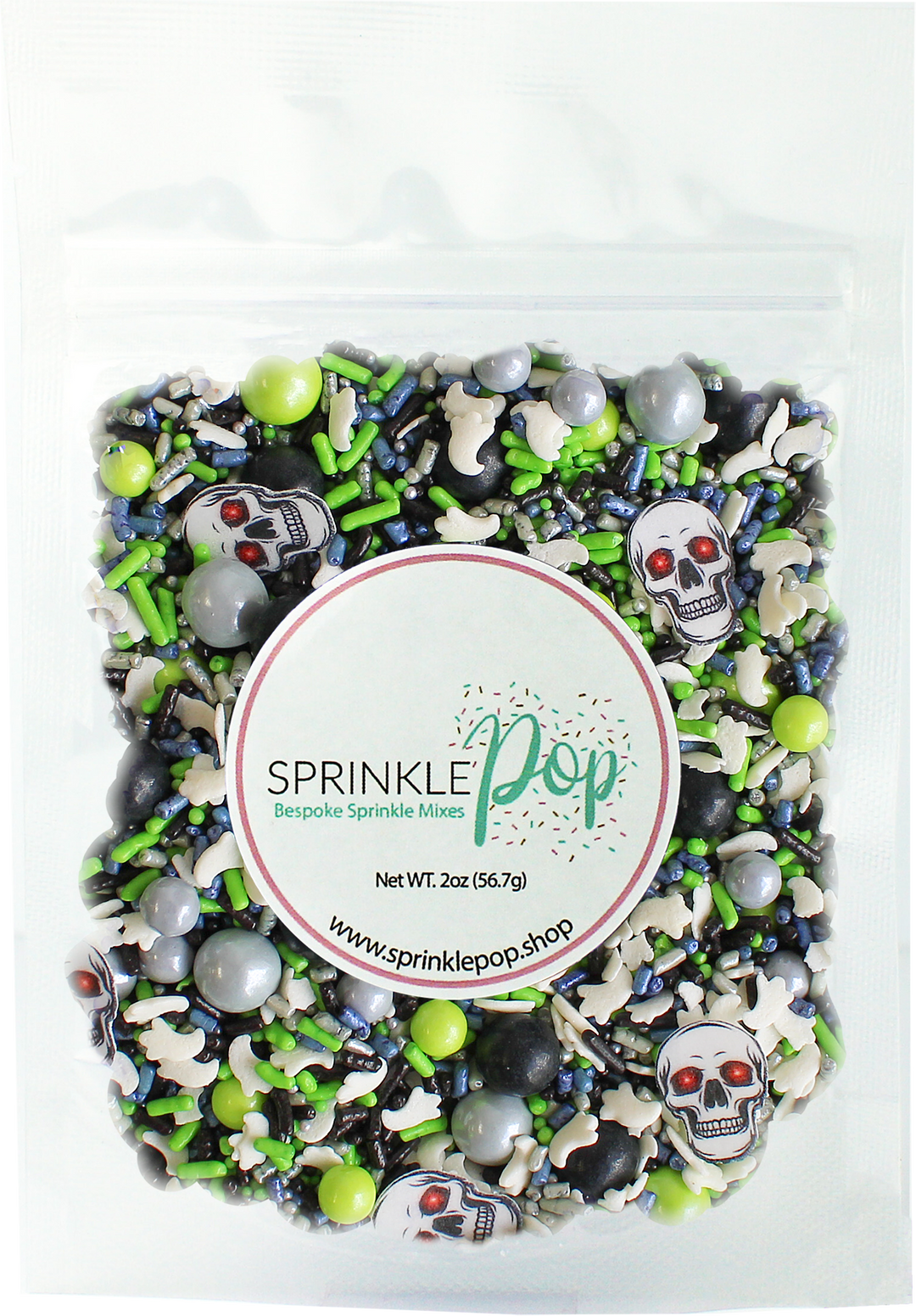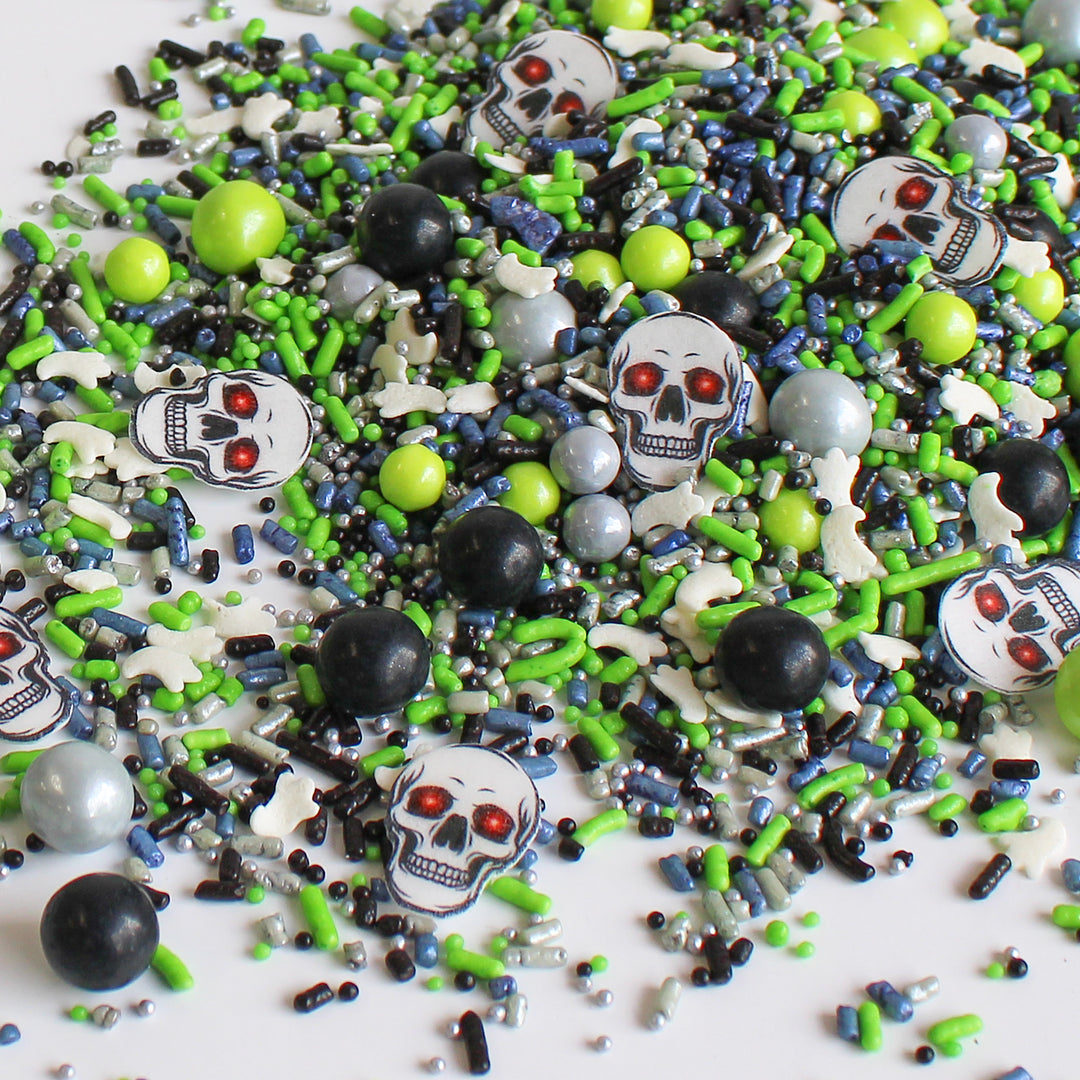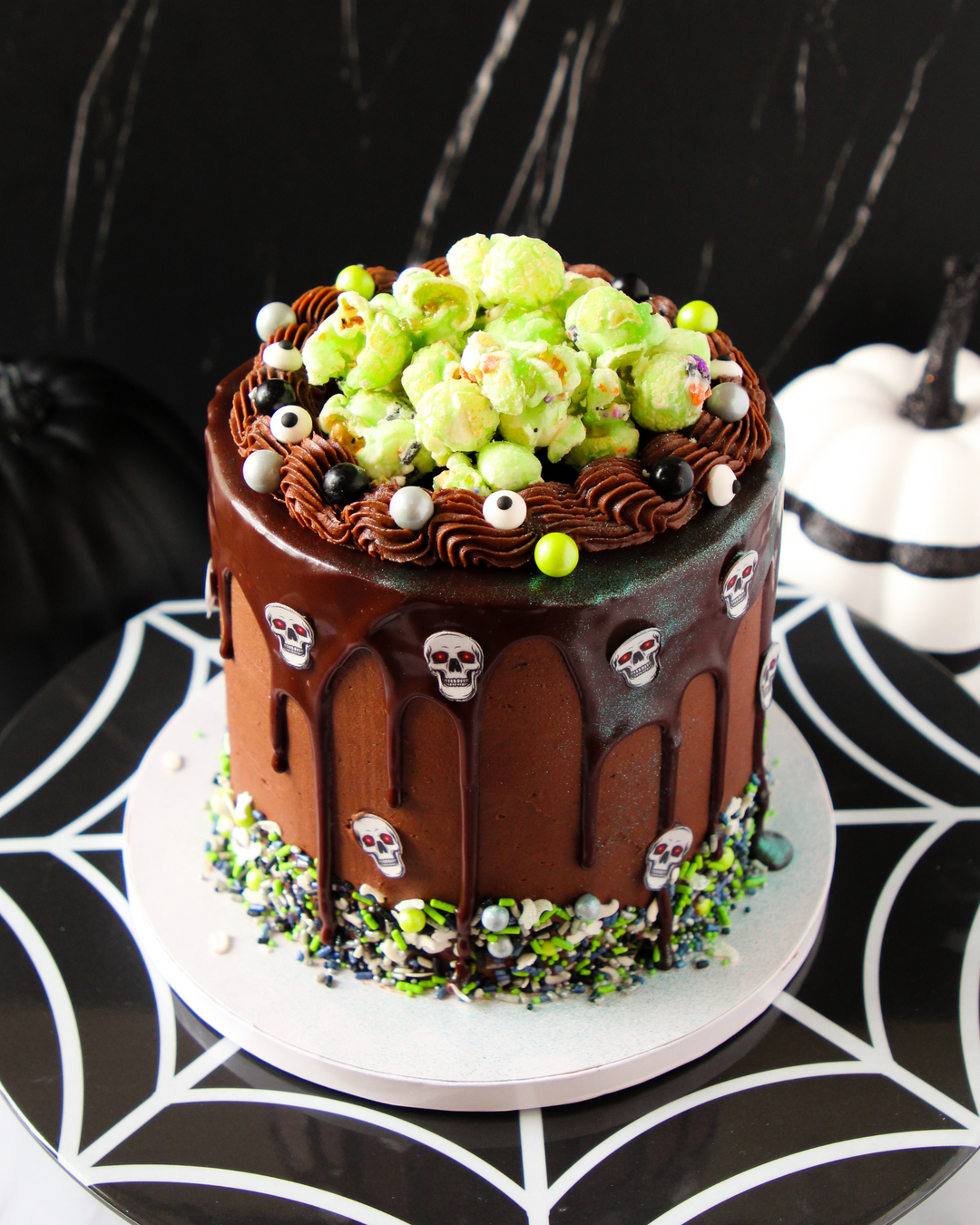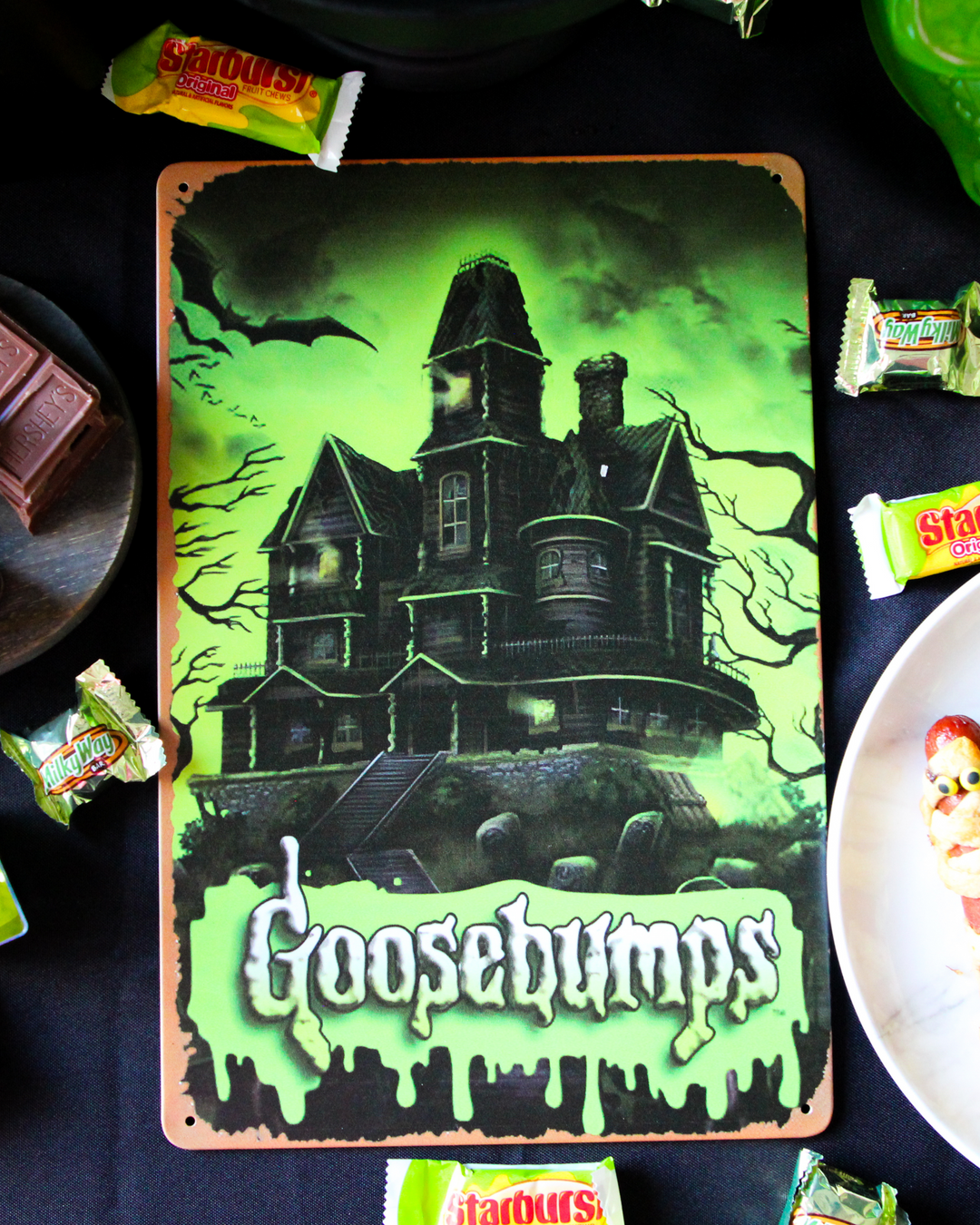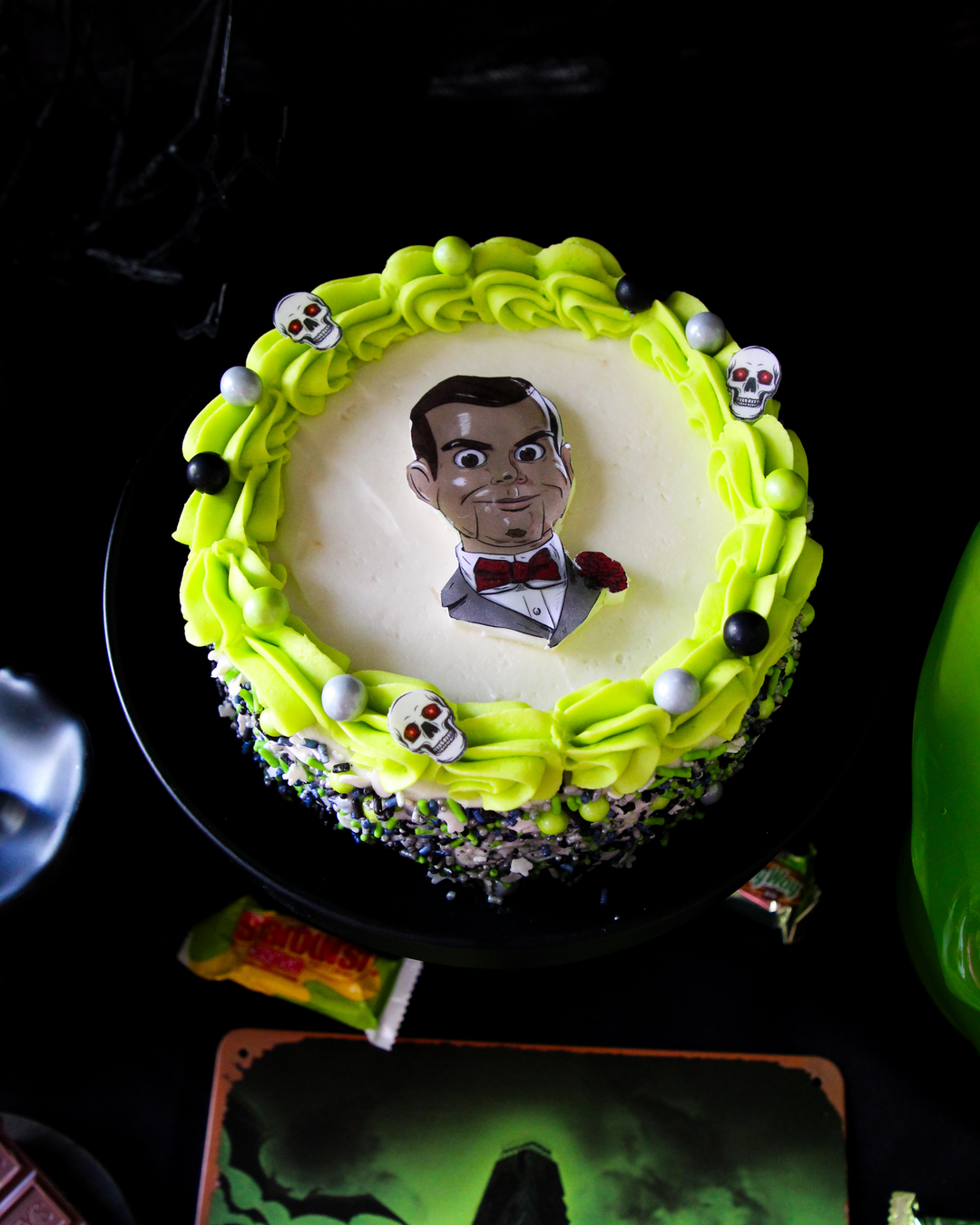 Dragonfly Hollow
Step into a quaint village scene with our Dragonfly Hollow Sprinkle Mix. A blend of gold, burgundy, orange, and dusty blue hues conjure the essence of a beloved small-town atmosphere. Discover delicate wafer flowers, books, and a cup of coffee nestled within, as if collected from a charming café. This mix brings the essence of heartwarming moments to your baked creations, a reflection of a cherished theme.
Inspo: Gilmore Girls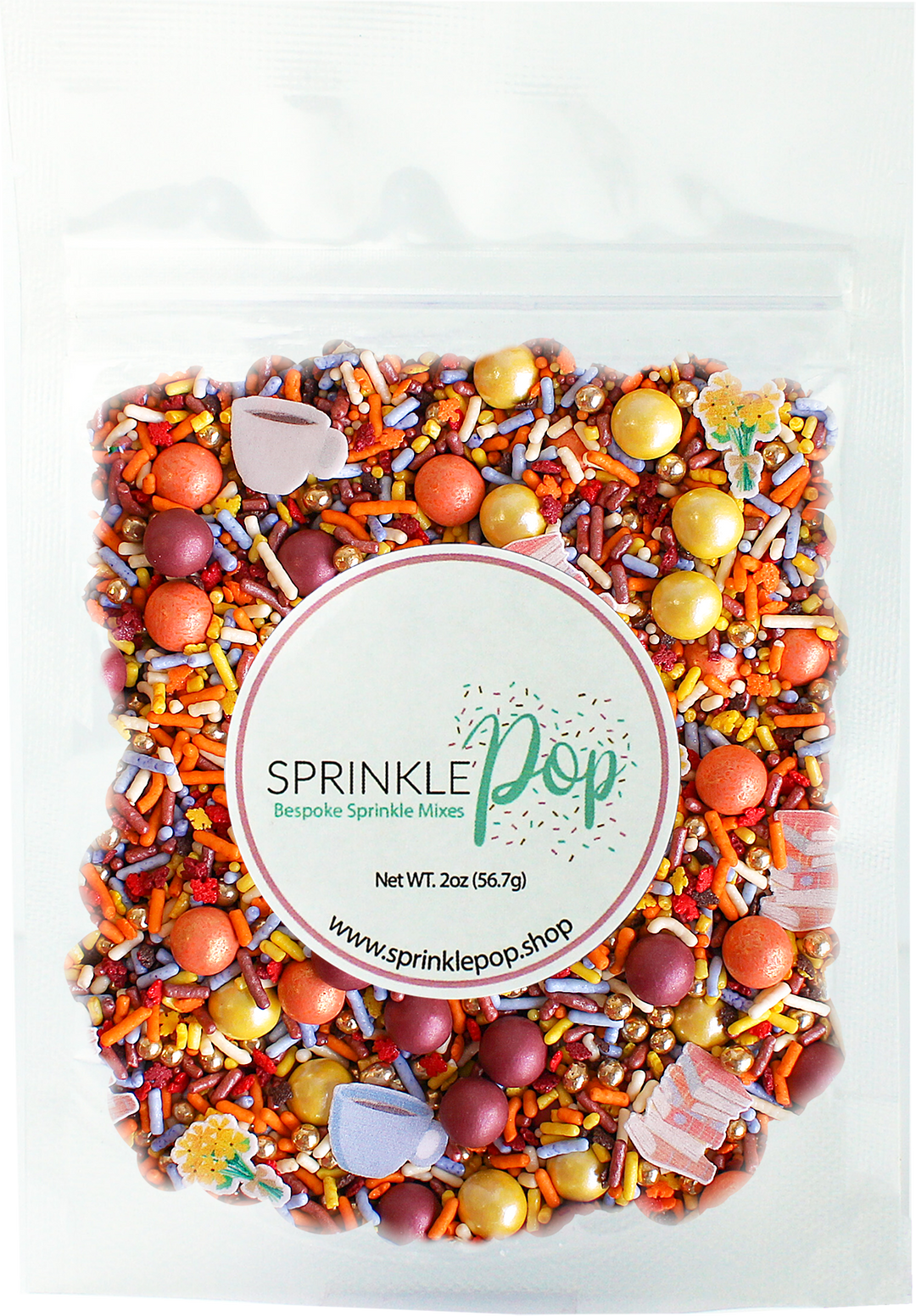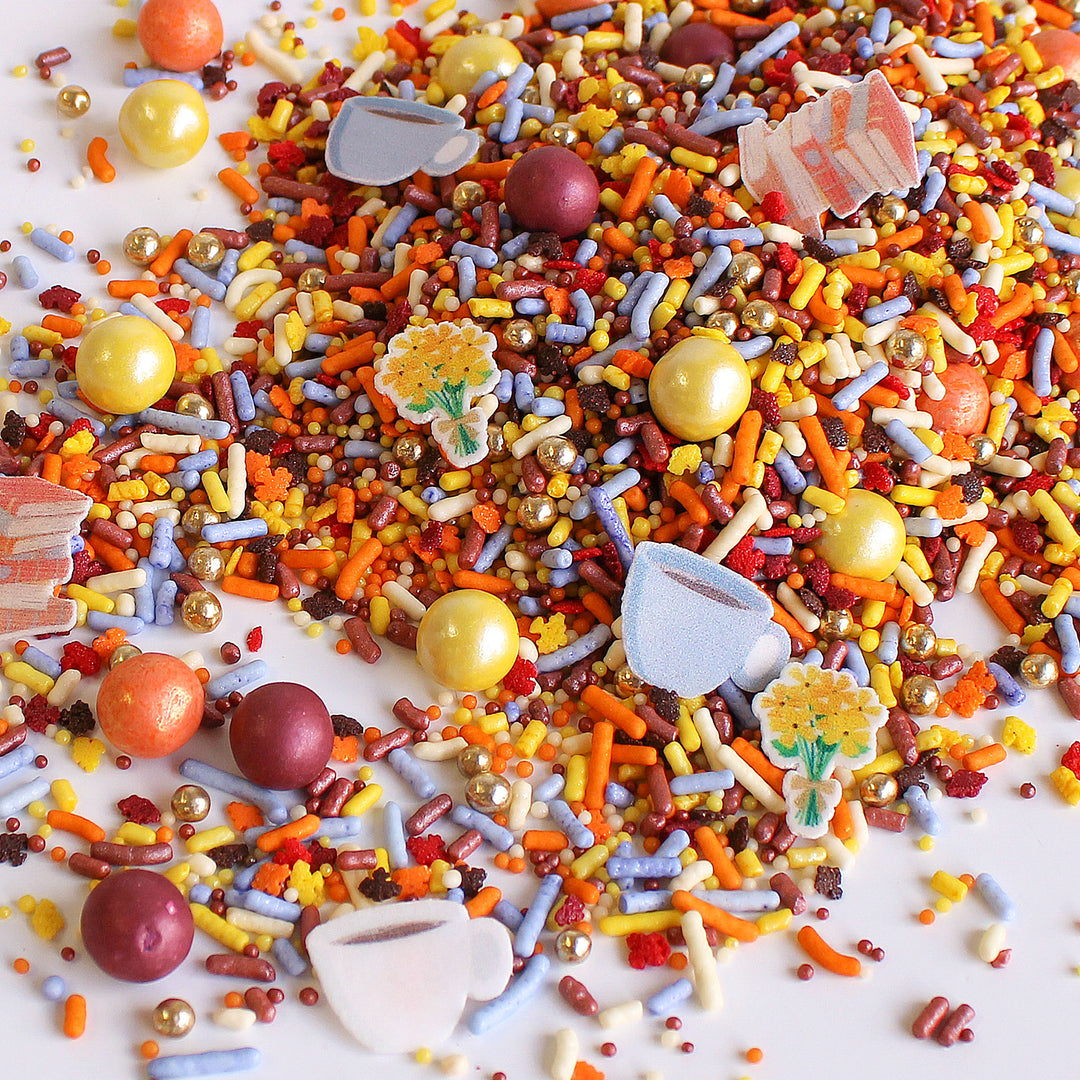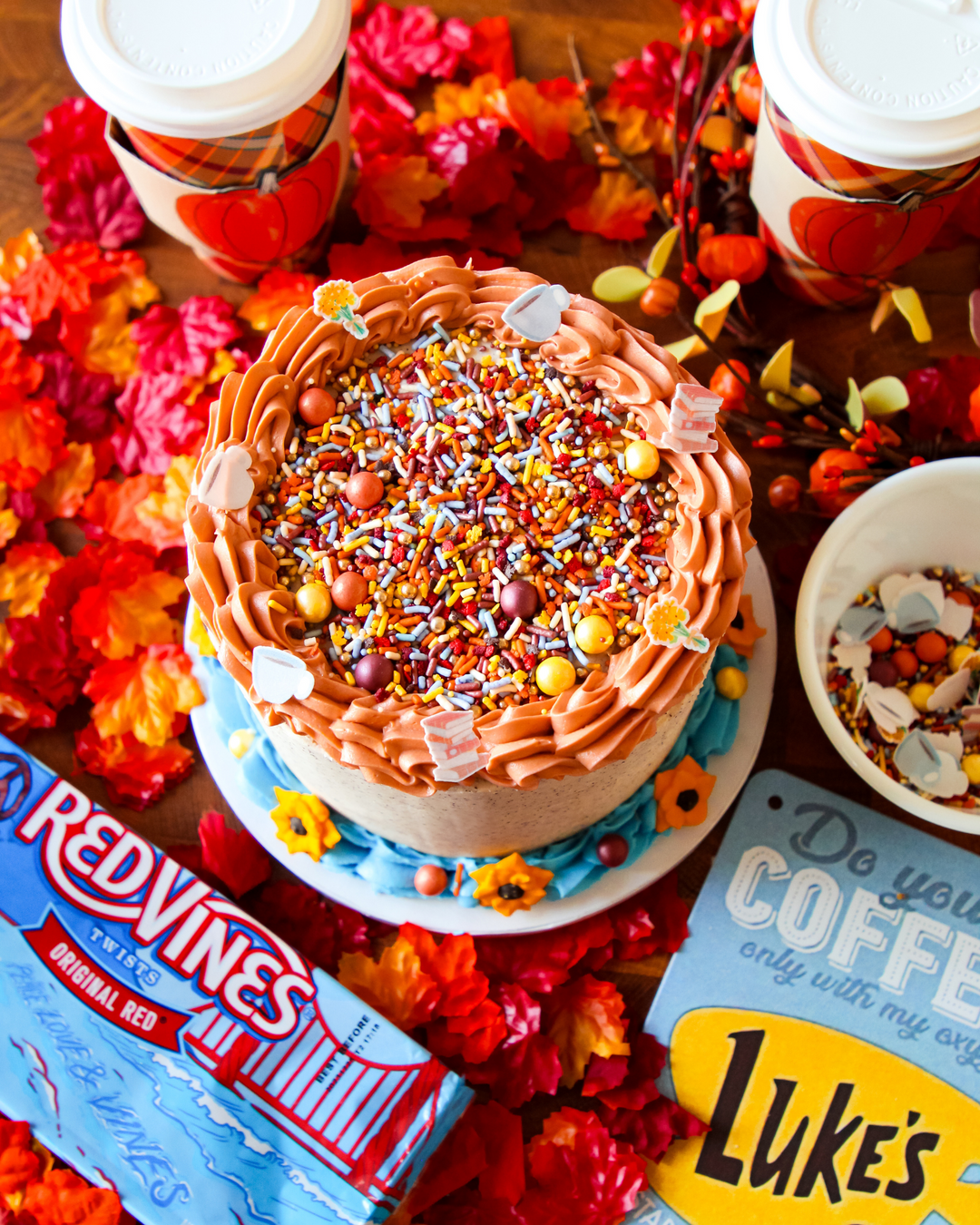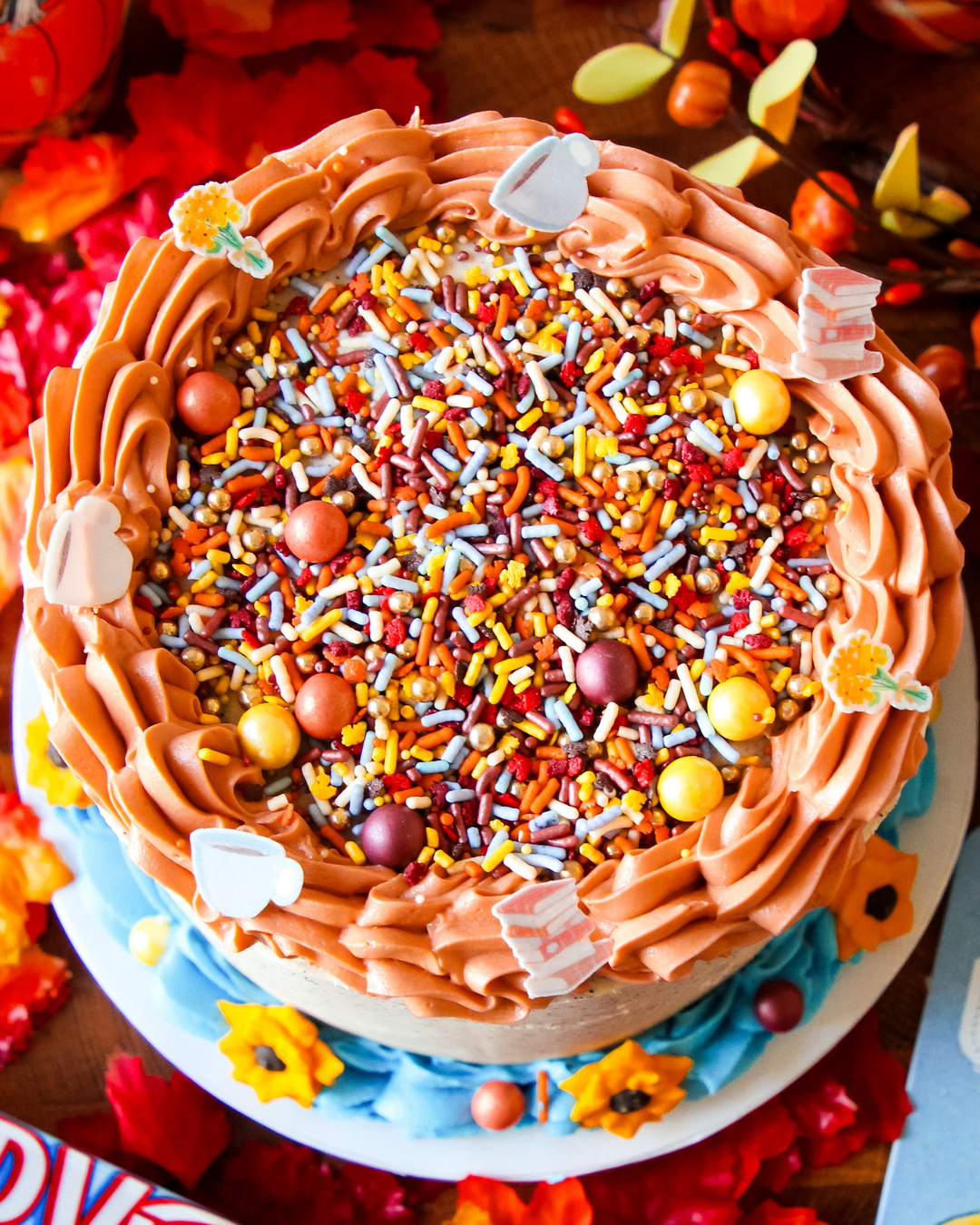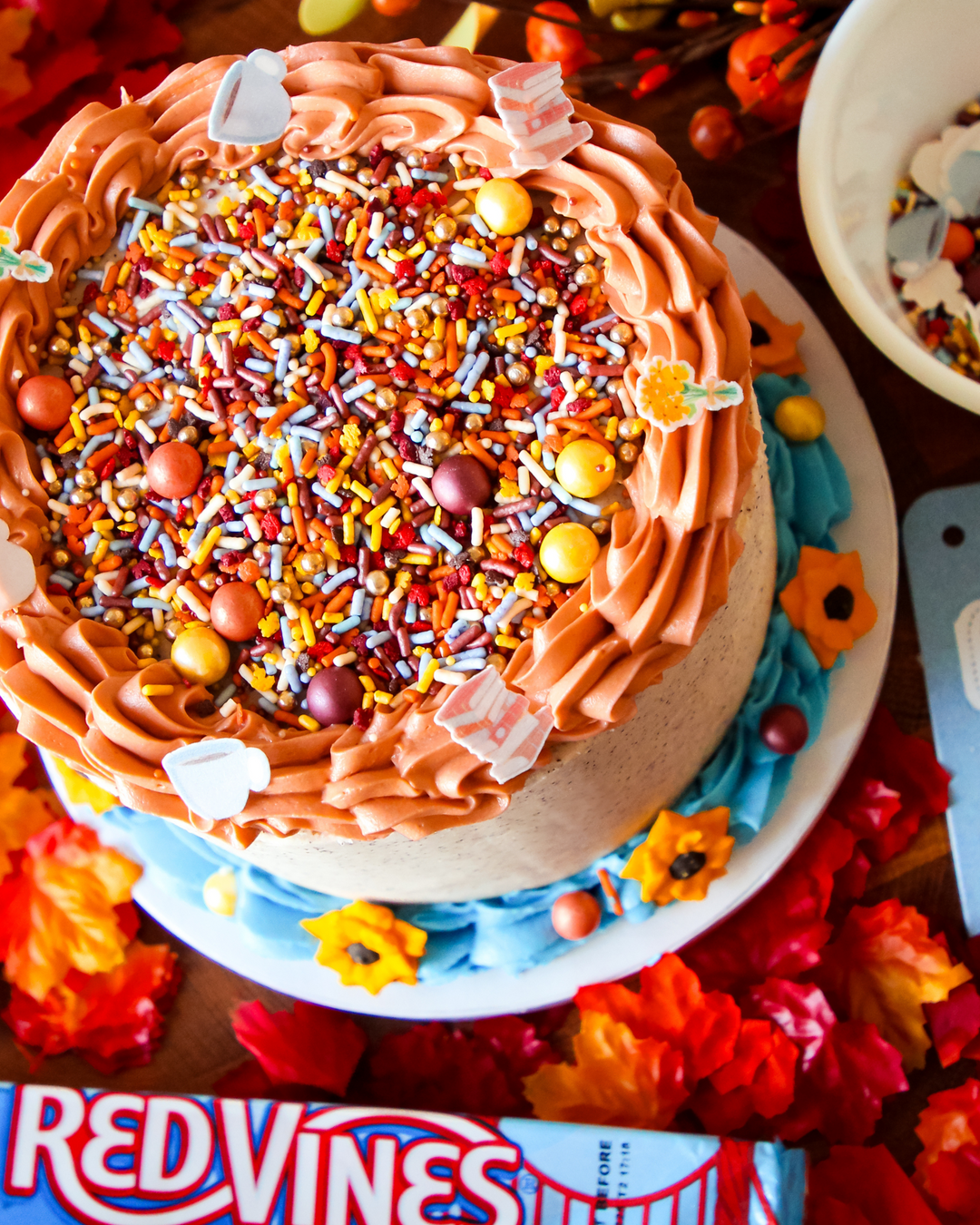 Chuck's Thanksgiving
Step into a heartwarming autumn scene with Chuck's Thanksgiving Sprinkle Mix. Inspired by a beloved classic, this blend features warm orange, gold, chocolate, and burgundy hues that capture the essence of the season. Delight in the whimsy of wafer turkeys, pilgrim hats, and cheerful yellow t-shirts that evoke fond memories of this timeless theme. Infuse your baked creations with the spirit of gratitude and togetherness.
Inspo: A Charlie Brown Thanksgiving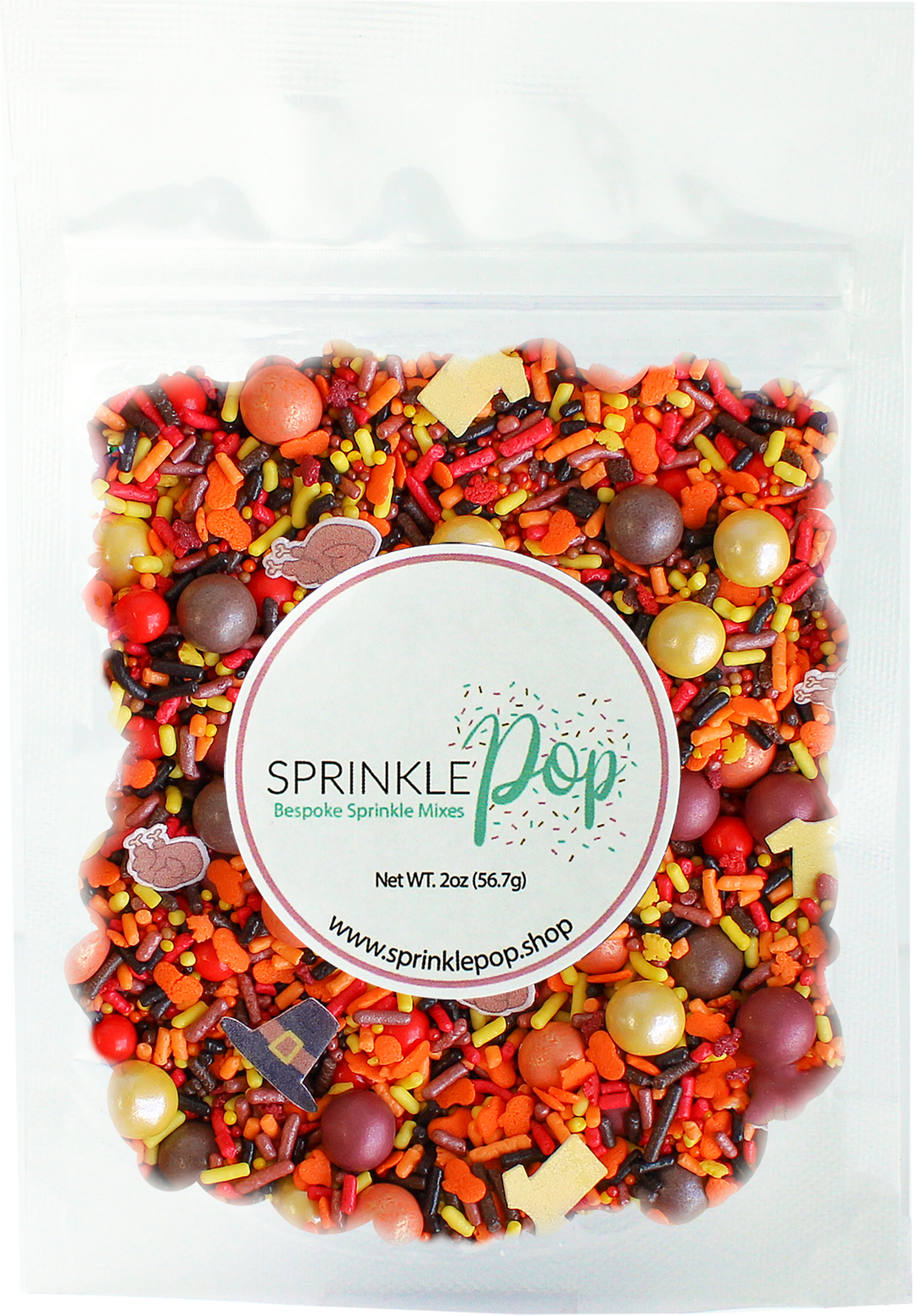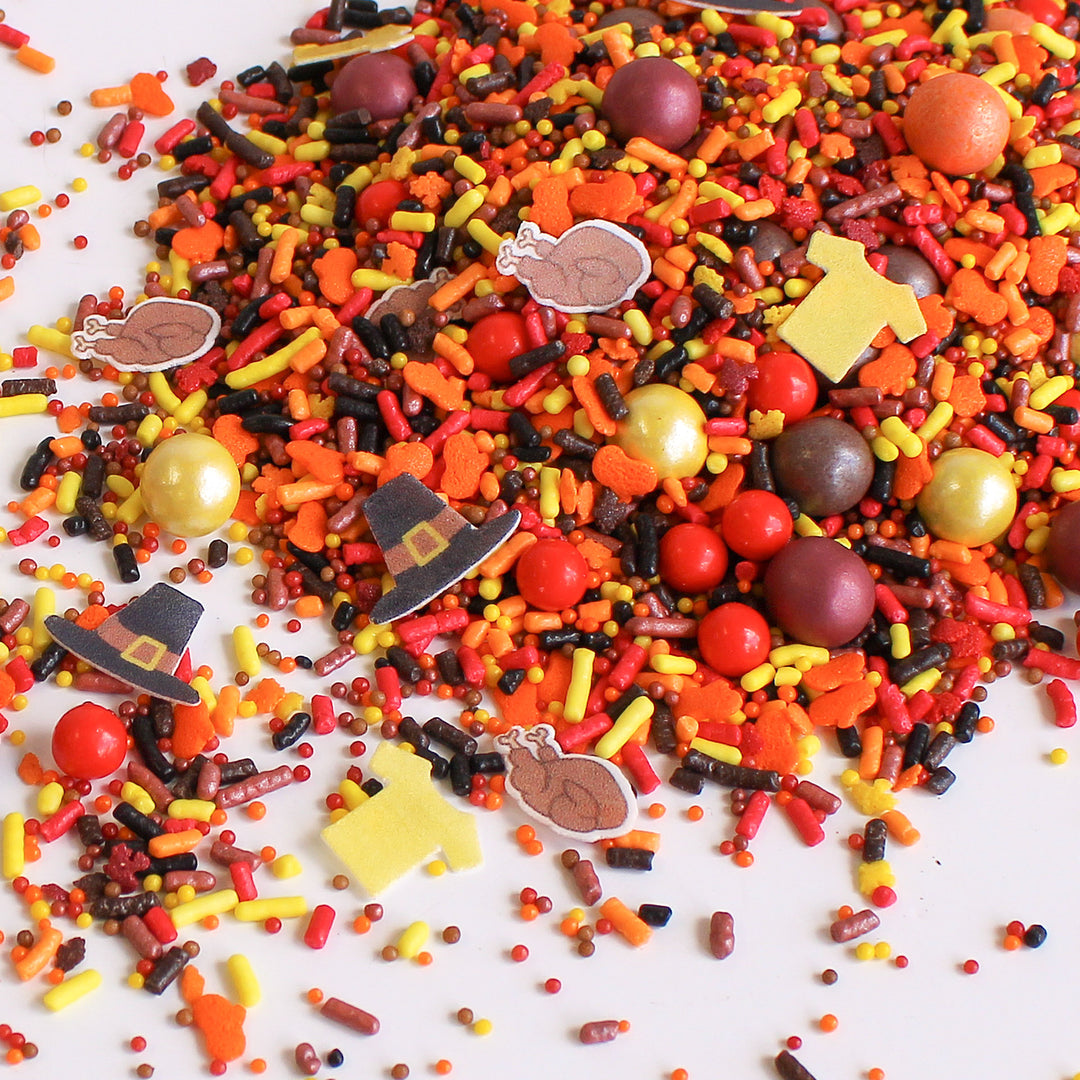 Mischief Managed
 Our Mischief Managed sprinkle mix will cast a spell on you. This wizarding sprinkle mix is a blend of burgundy, red, yellow, and black with metallic gold accents and wafer paper lightning bolts.
Inspo: Harry Potter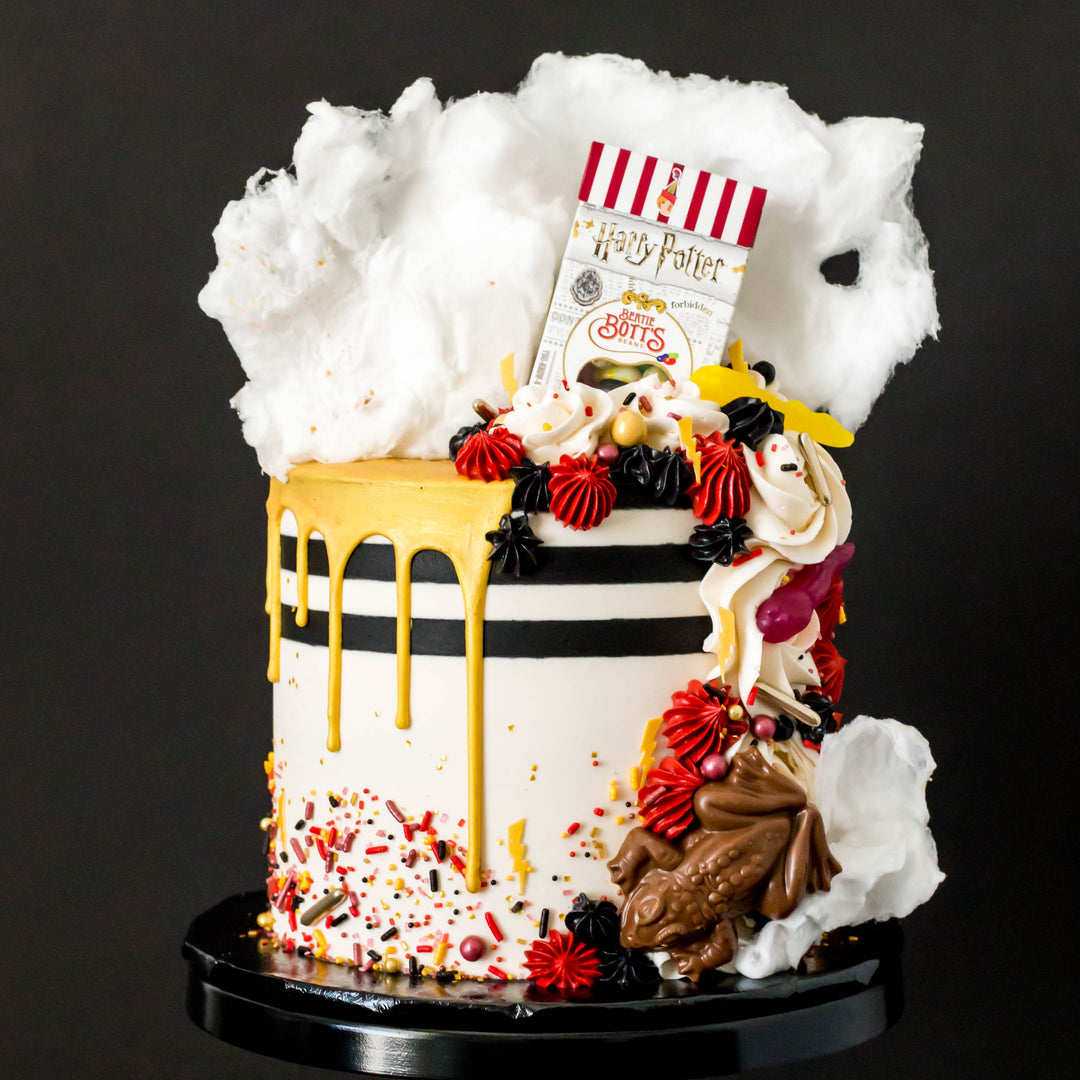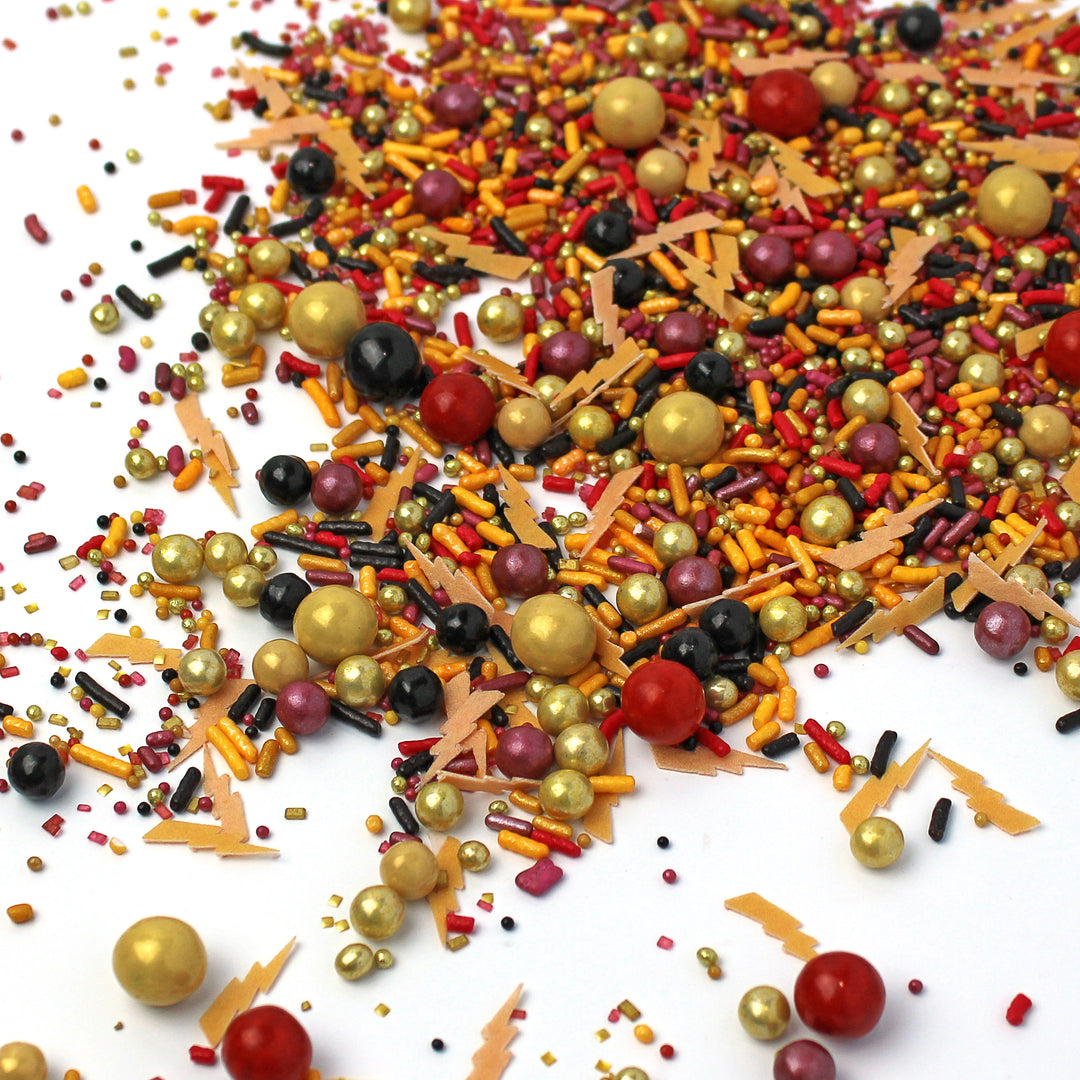 Zombie
Unleash a spooky delight with our Zombie Sprinkle Mix. Delve into a chilling world of light blue, forest green, and mint green hues that capture the essence of the Halloween spirit. The mix features eerie wafer Zombie hands, adding a bone-chilling touch to your baked creations.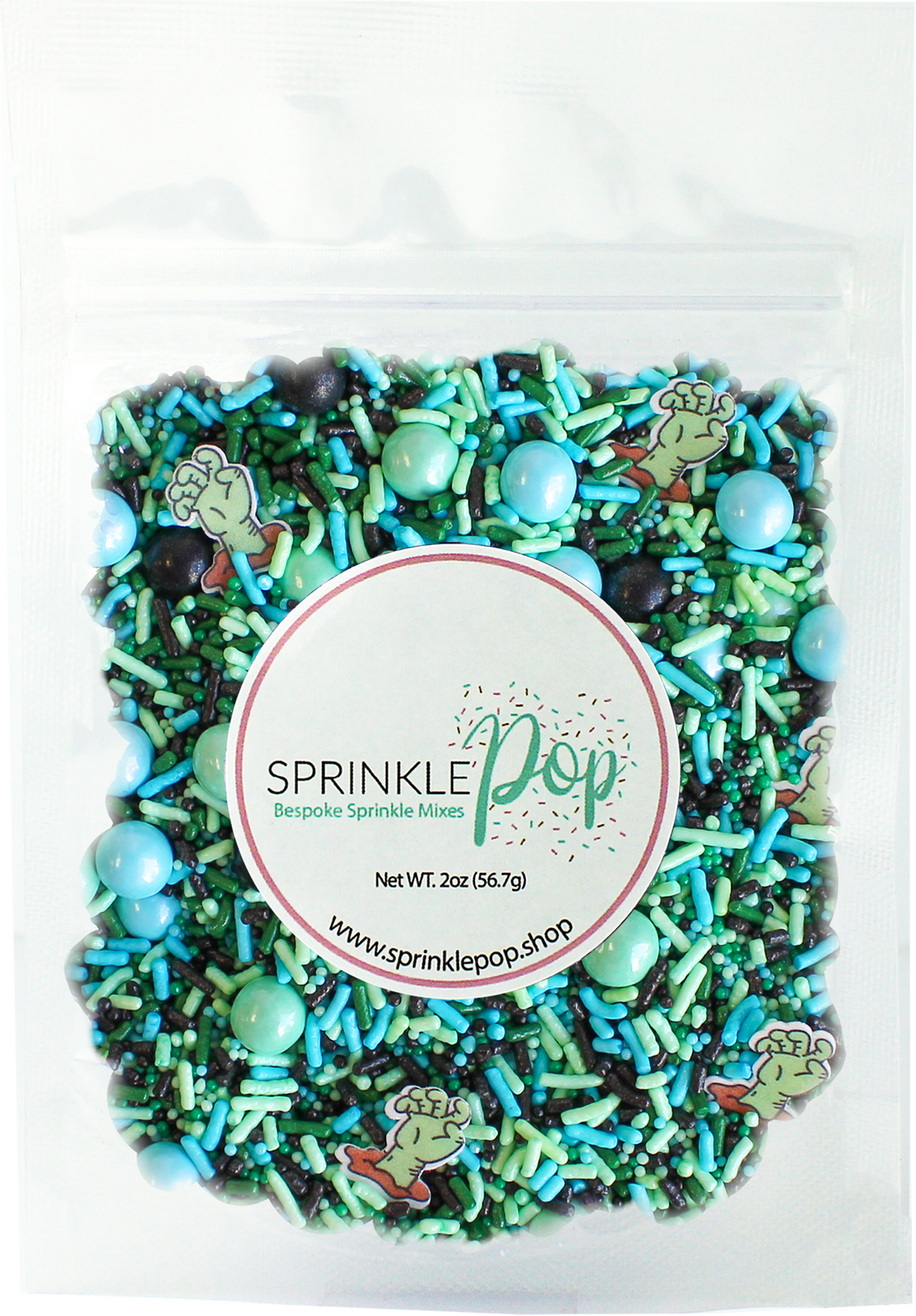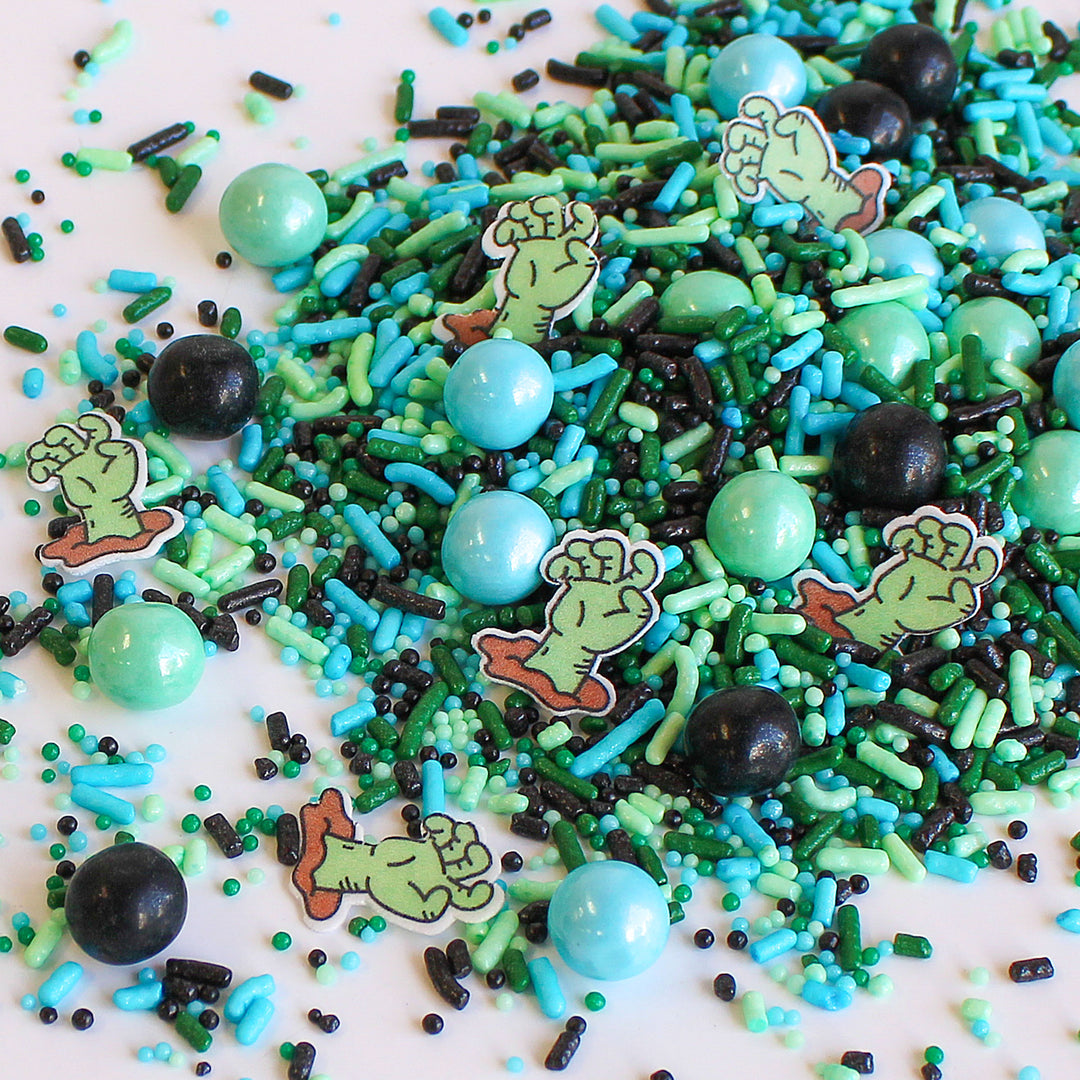 Scream Queen
Who said sprinkles can't be scary?Scream Queenis a murderous blend of red, black, and silver. Ourwafer paper ghost facesare sure to scare you sweet!
Inspo: Scream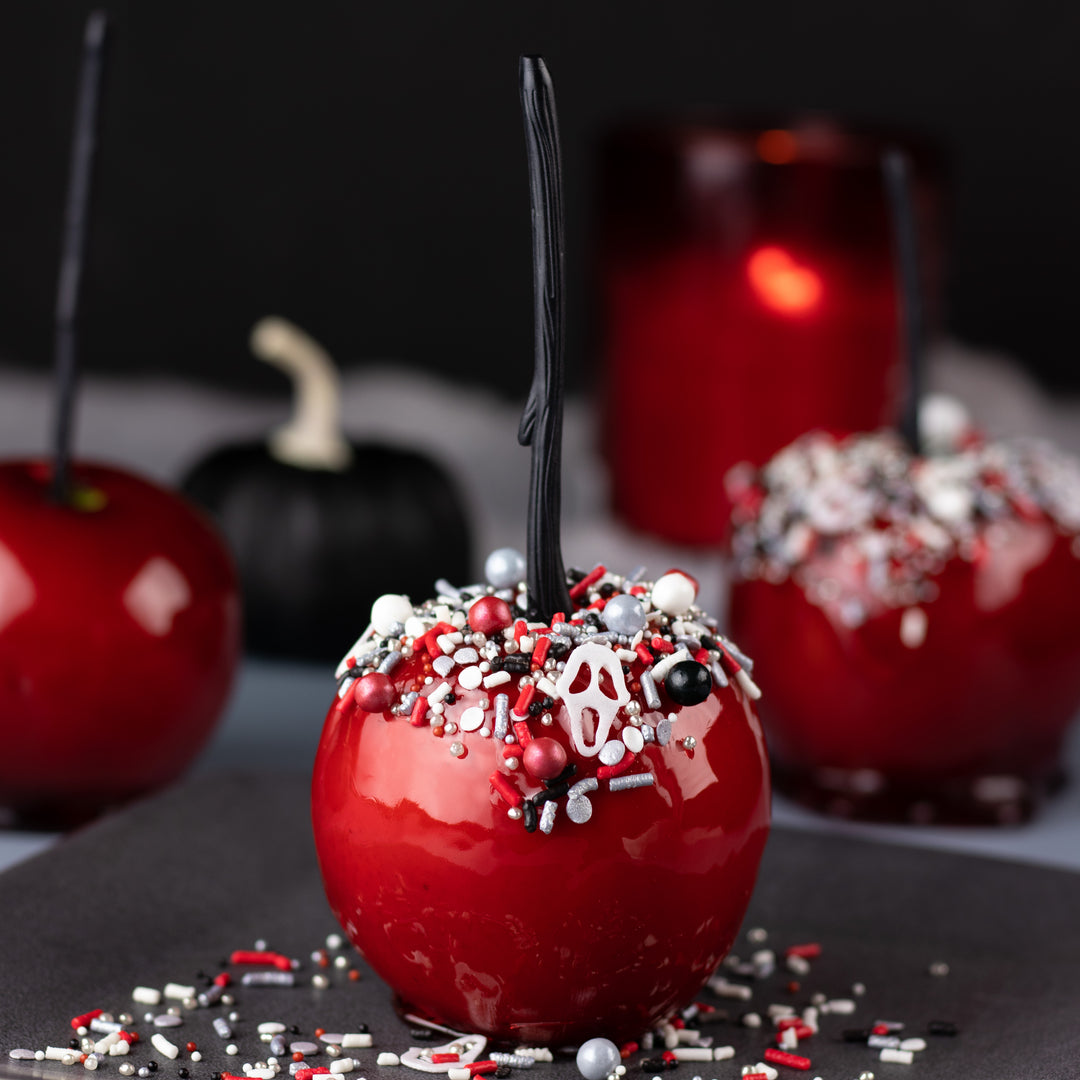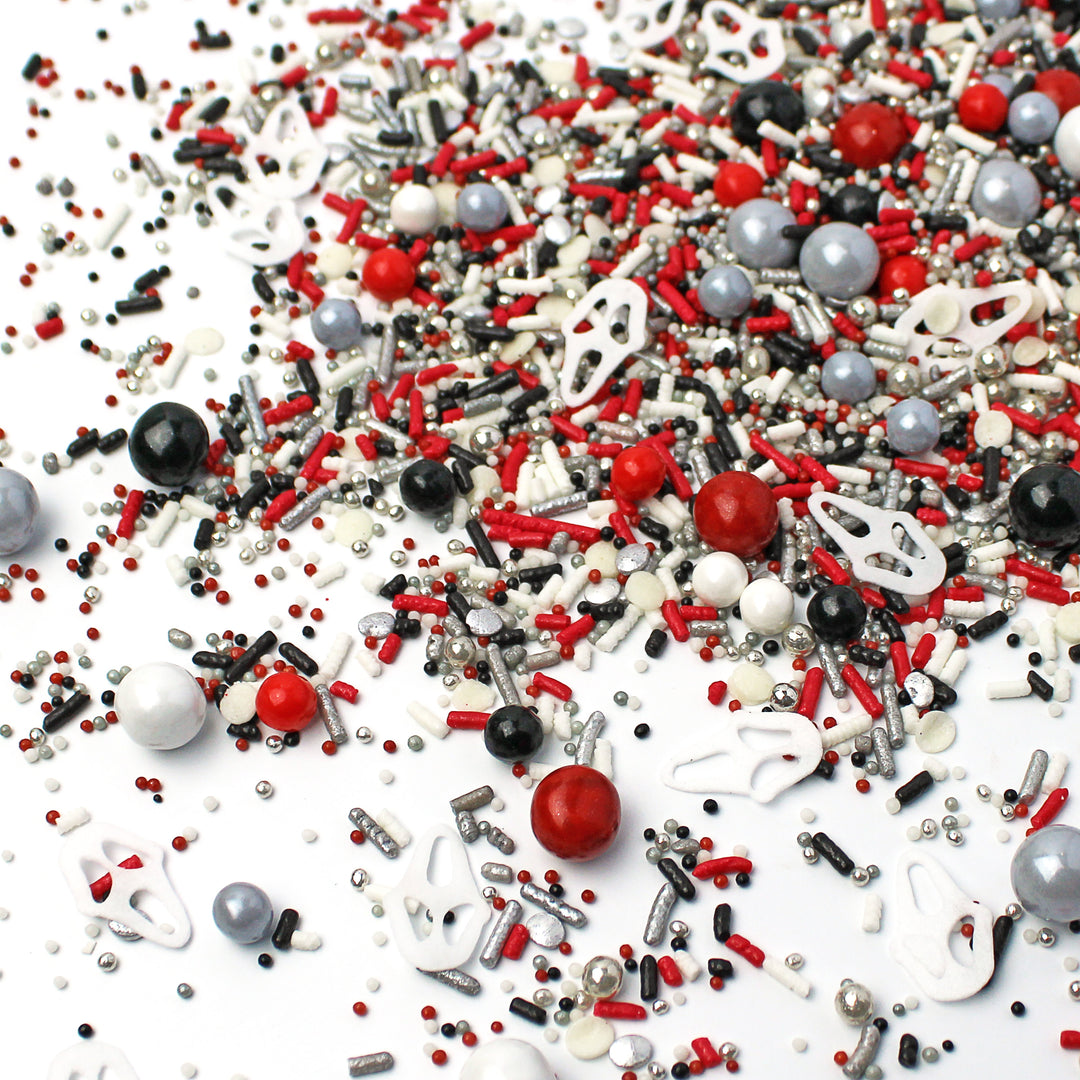 Vampire Romance
Transform your Halloween treats with our Vampire Romance Sprinkle Mix. Infused with a captivating blend of red, black, white, and burgundy, this mix encapsulates the essence of a vampire's passionate tale. Wafer chess pieces and apples evoke the enigmatic allure of the night, adding an enchanting touch to your cakes, cookies, ice cream, and cupcakes
Inspo: Twilight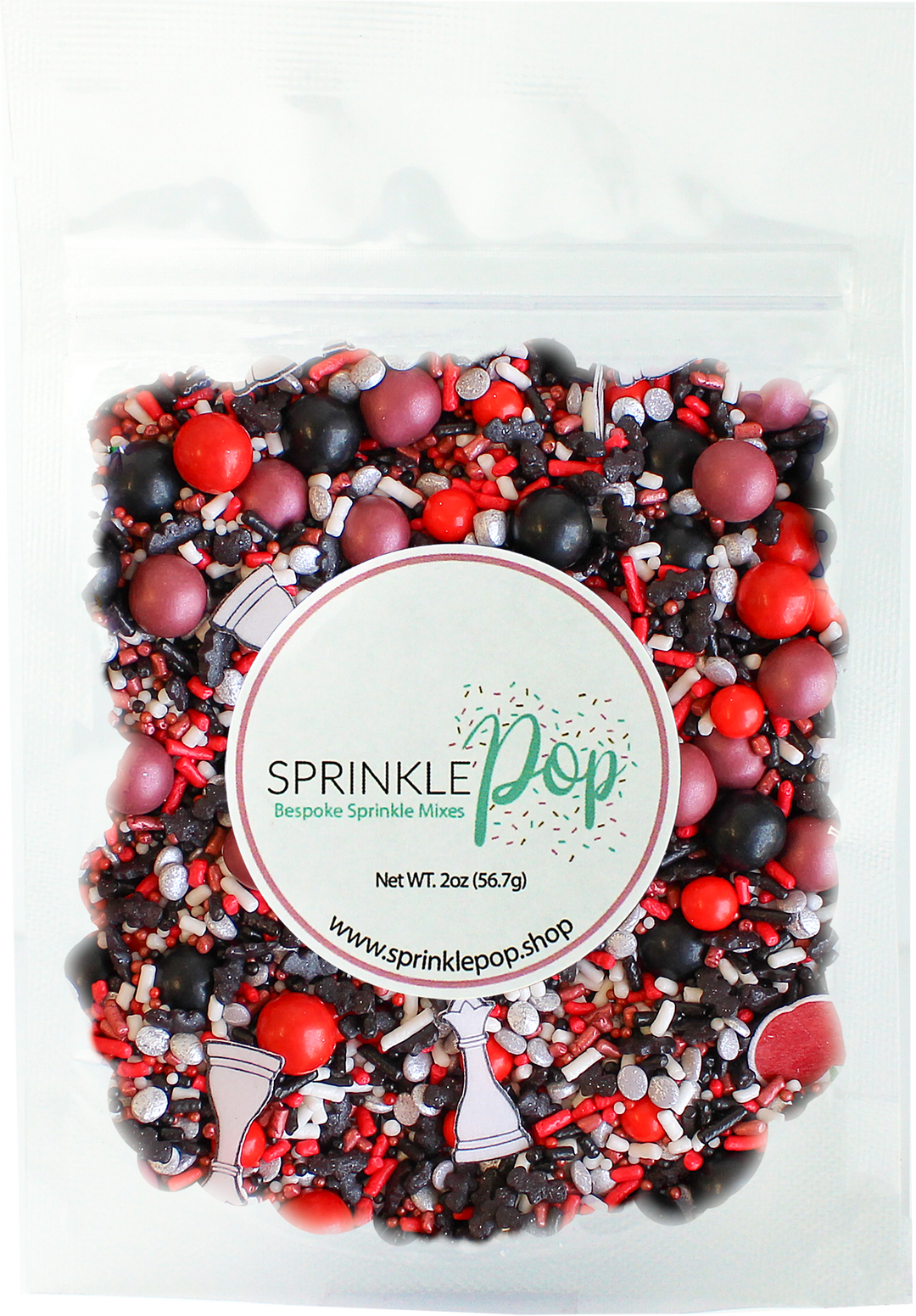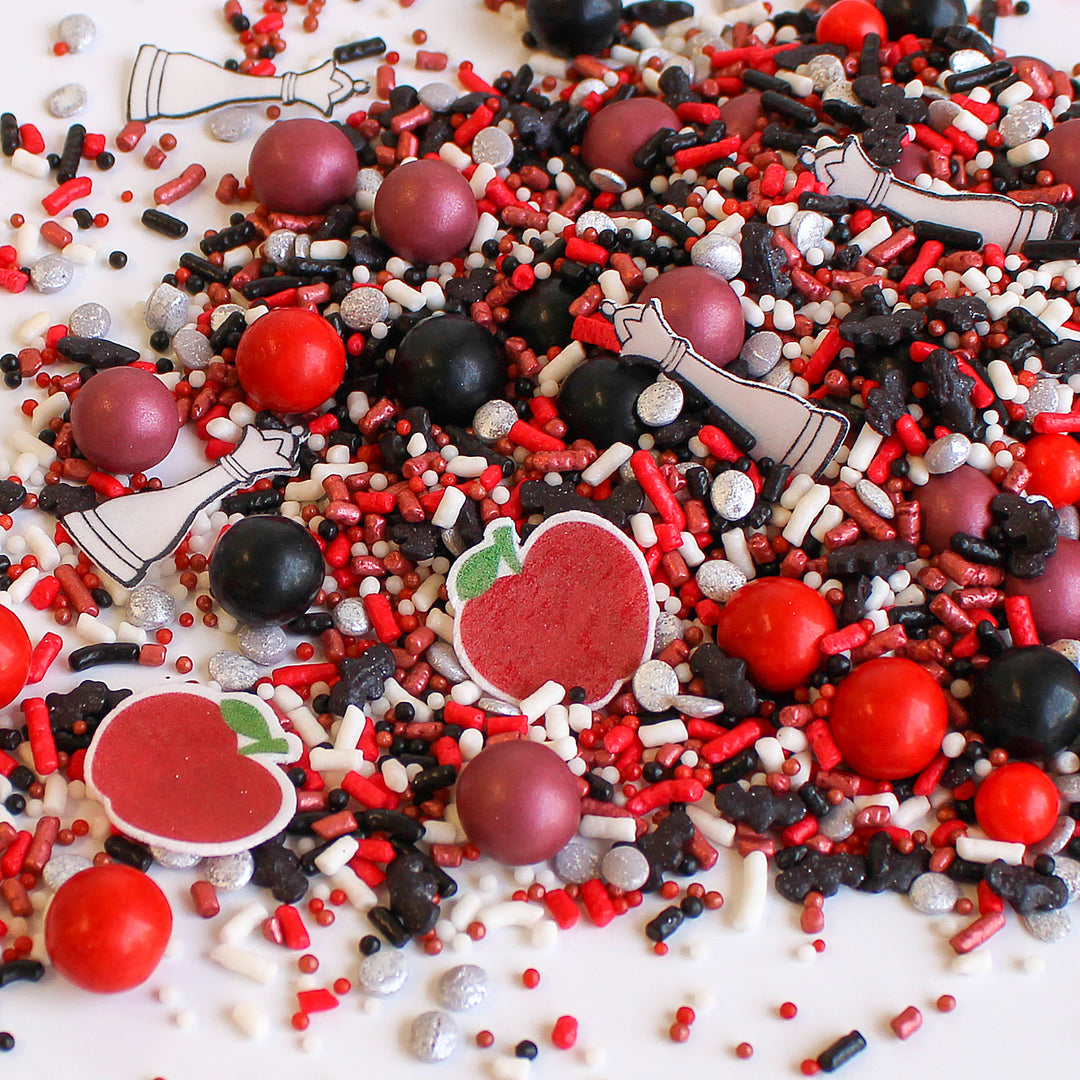 Halloween Horror
Unleash the spine-tingling excitement of Halloween with our Eerie Halloween Sprinkle Mix. This heart-pounding blend of midnight black, chilling orange, and ghostly white sprinkles is a thrilling tribute to the most hair-raising holiday of the year. Featuring wafer paper bloody knives, menacing hockey masks, and grinning jack-o'-lanterns, this sprinkle mix will add an electrifying twist to your Halloween creations.
Inspo: Halloween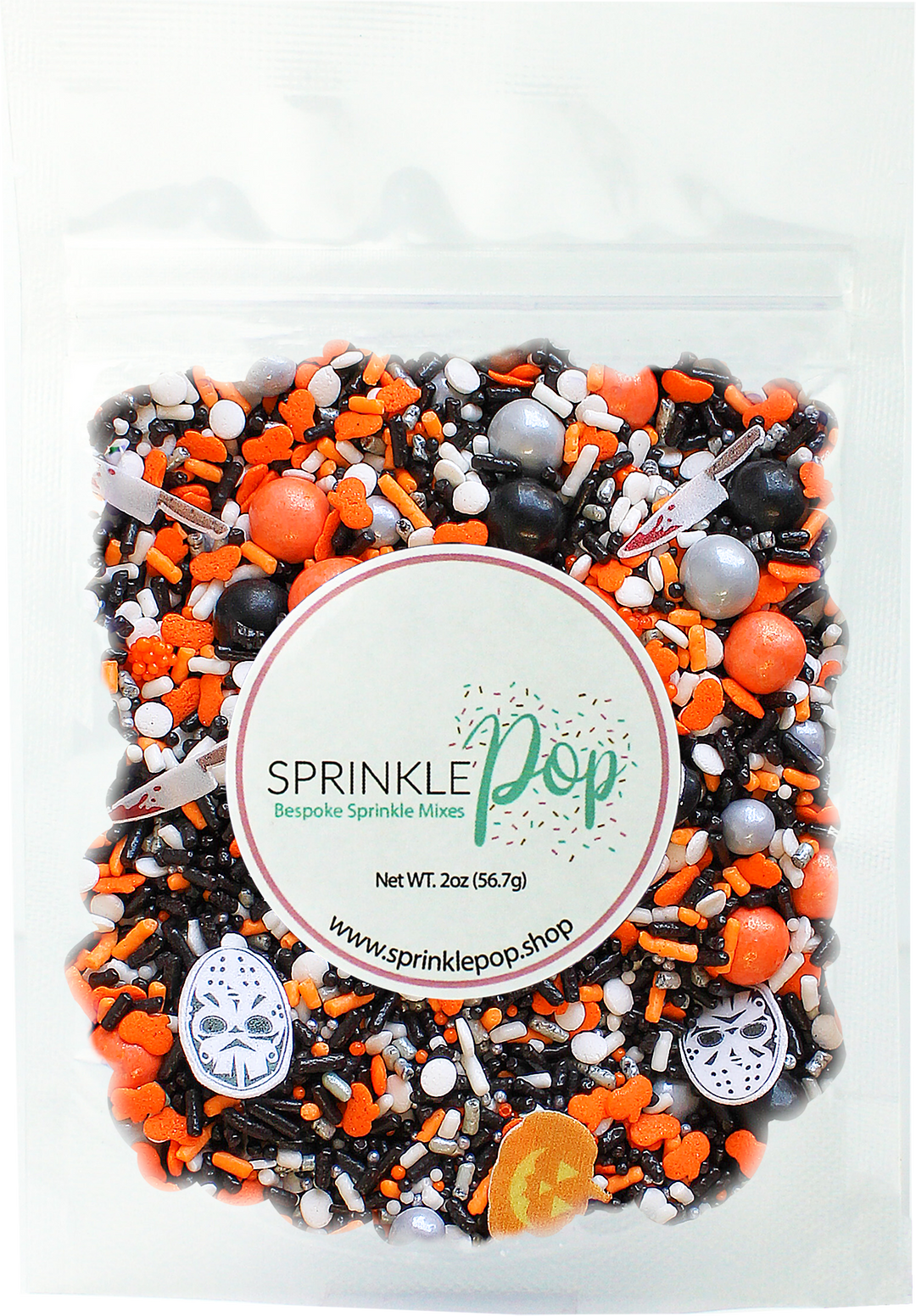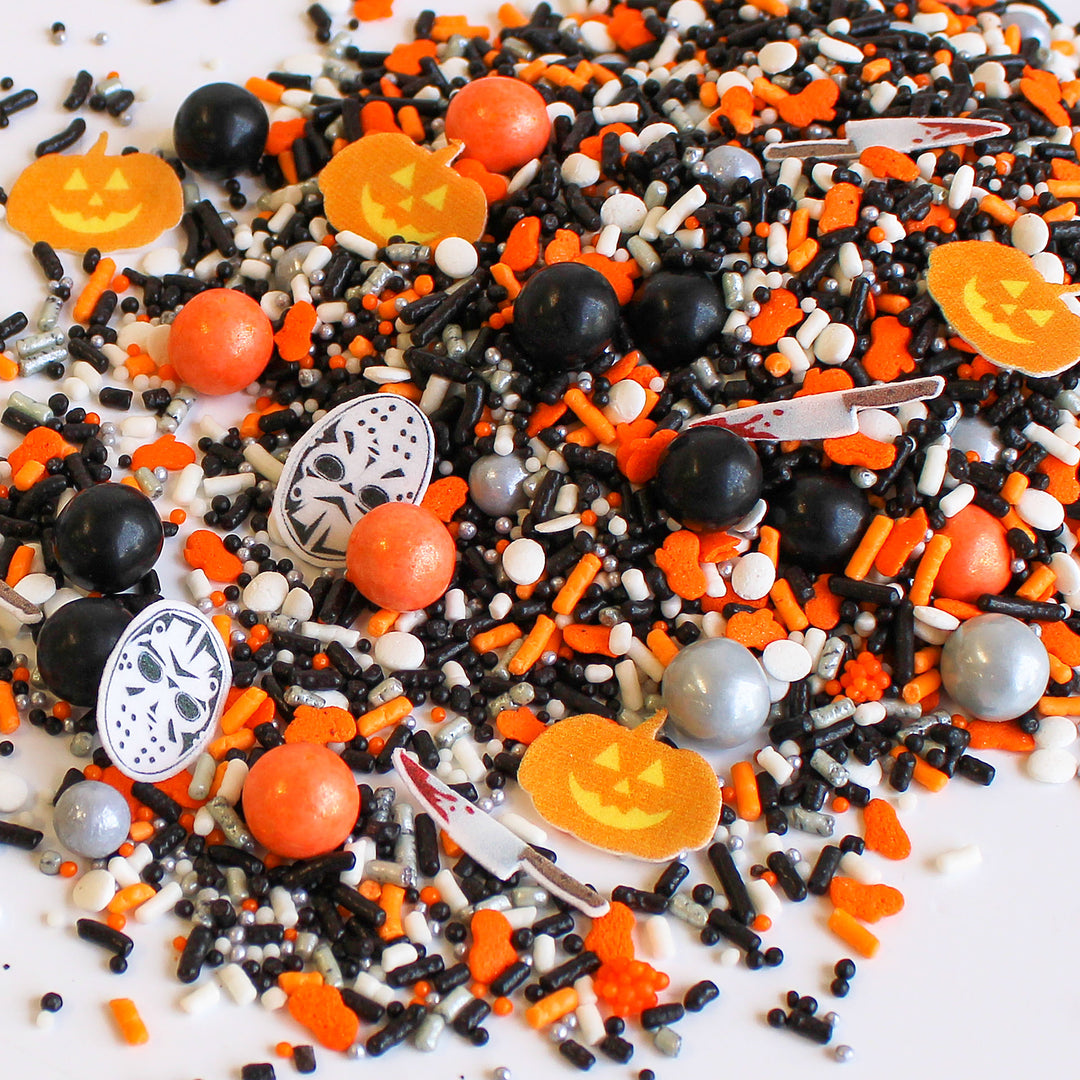 Chilling
Enhance your spooky treats with our Chilling Sprinkle Mix. This bewitching blend of purple, black, silver, and burgundy features wafer black cats and lips that infuse an air of eerie elegance into your creations. Whether you're adorning cakes, cookies, ice cream, or cupcakes, this sprinkle mix will elevate your Halloween goodies.
Inspo: The Chilling Adventures Of Sabrina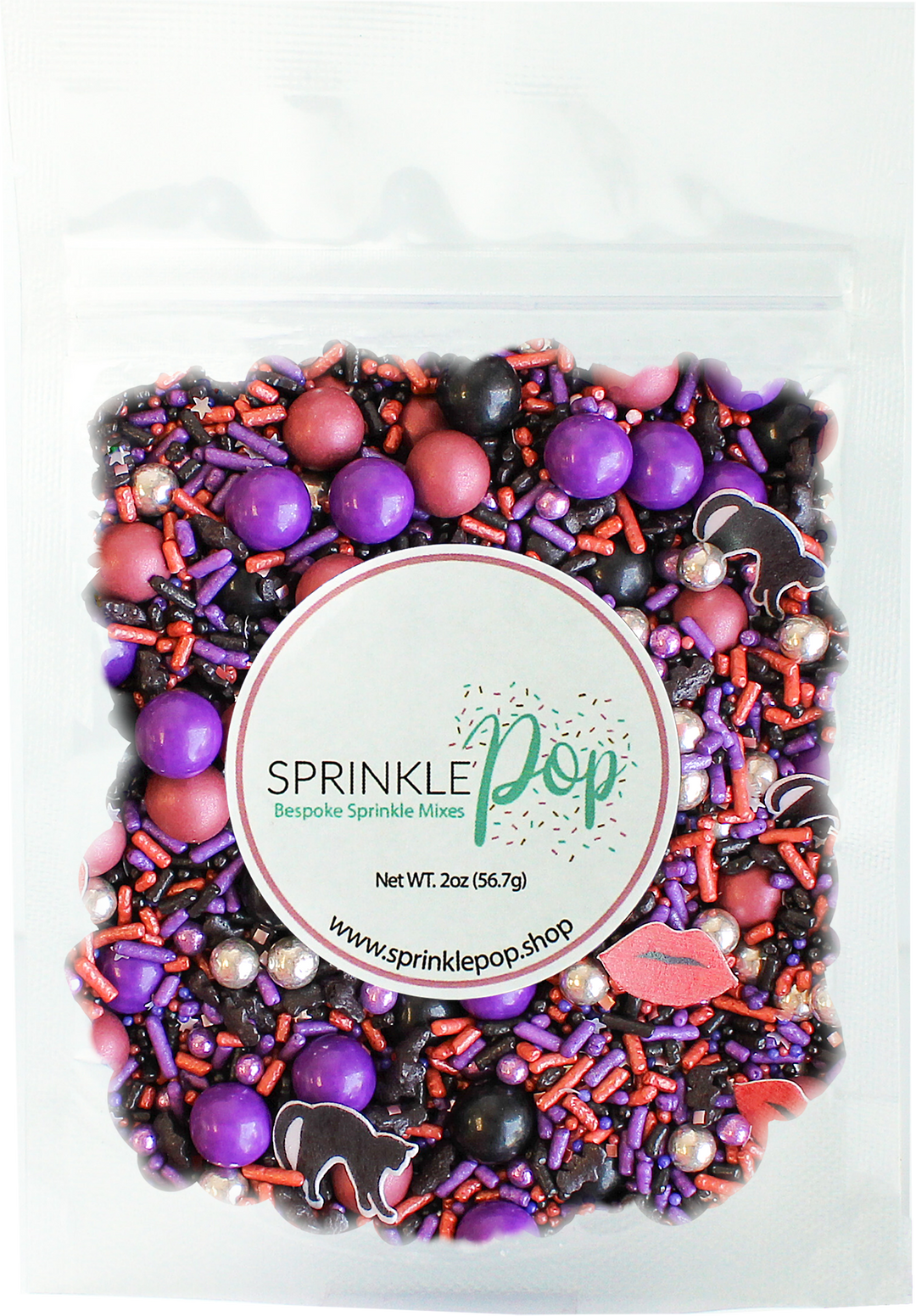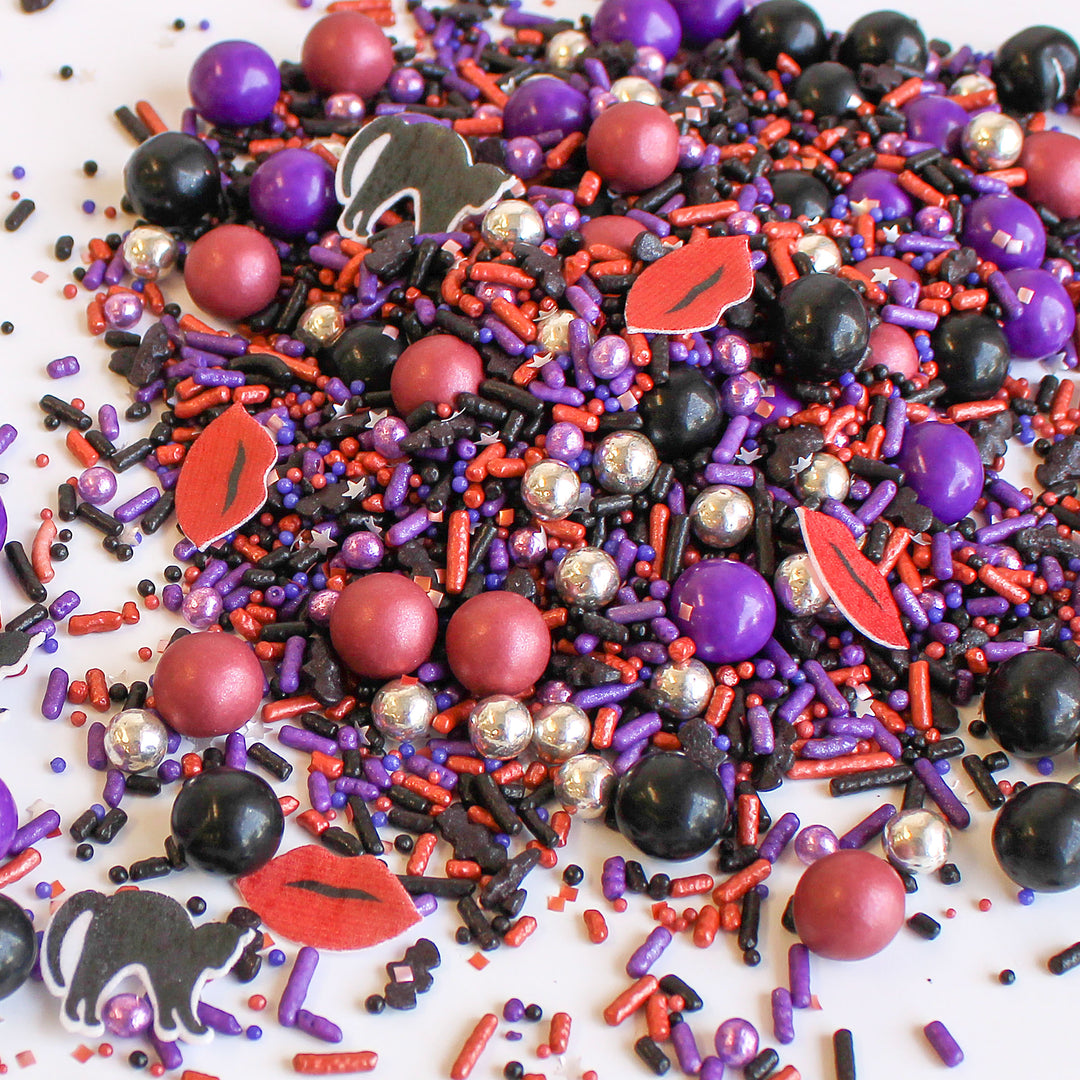 Woes
Step into the world of eerie enchantment with our Woes Sprinkle Mix. A bewitching blend of black and rainbow hues, featuring wafer rainbow spider webs and bats, will cast a spell on your Halloween treats. Whether you're adorning cakes, cookies, ice cream, or cupcakes, this sprinkle mix is your ticket to transforming ordinary desserts into spooktacular delights
Inspo: Wednesday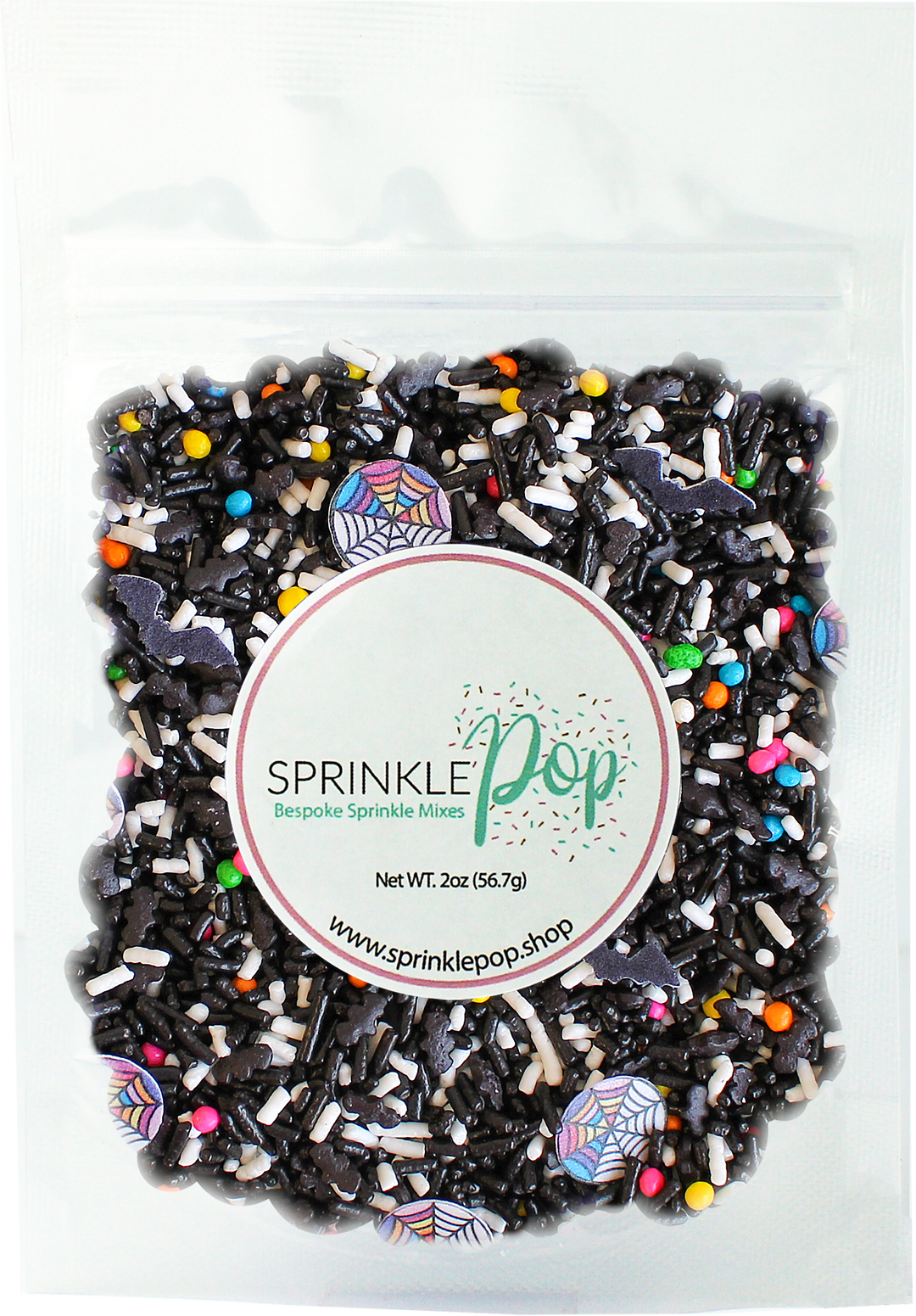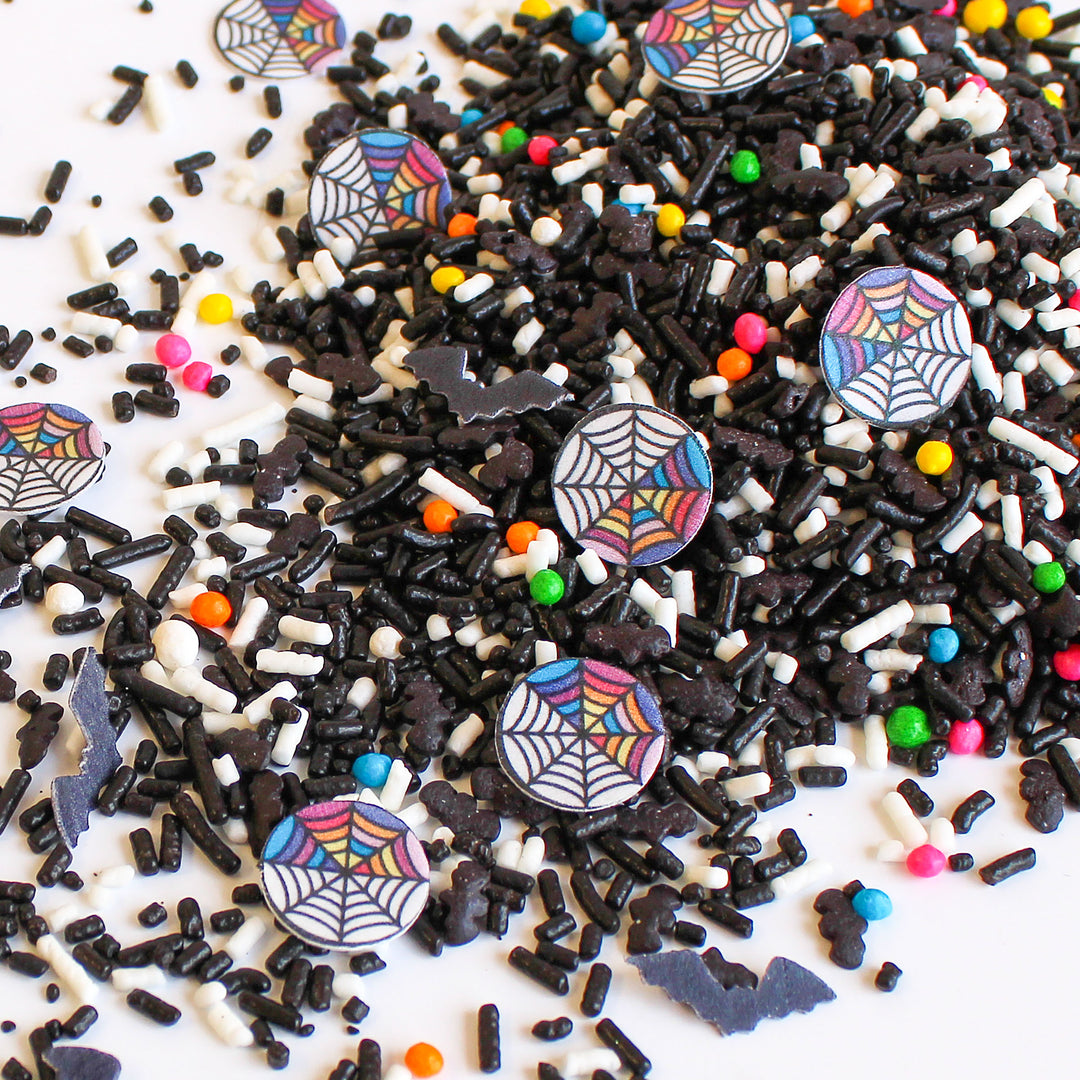 Who You Gonna Call?
Step into the spectral spotlight with our Who You Gonna Call Sprinkle Mix. This Halloween concoction features a wickedly delightful blend of lime green, red, black, and pops of gold. Confetti ghosts and wafer spirits swirl in a dance of spectral whimsy, perfect for cake decorating, cookies, ice cream, and cupcakes. Bring a touch of spook and sparkle to your creations with this playful mix.
Inspo: Ghostbusters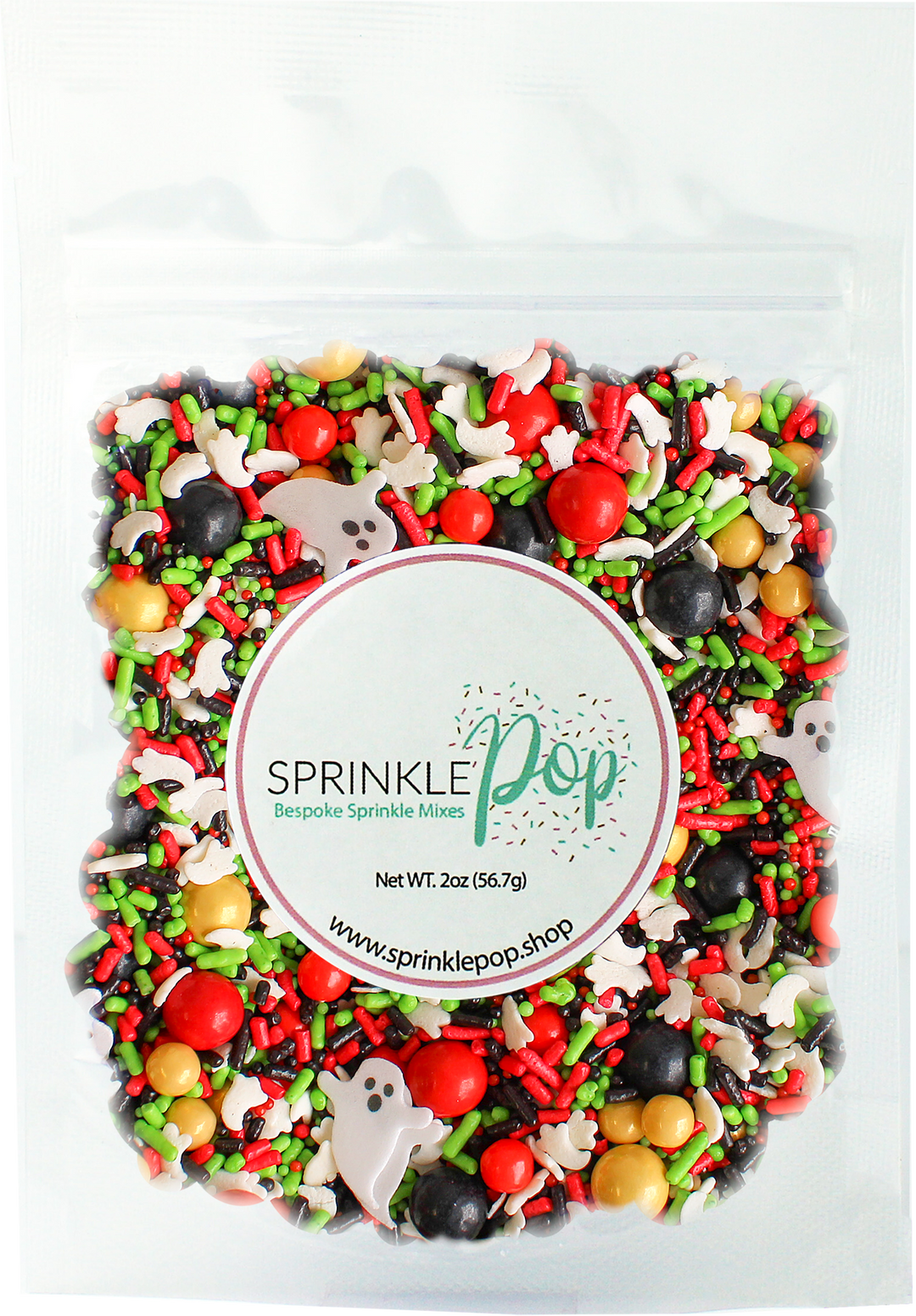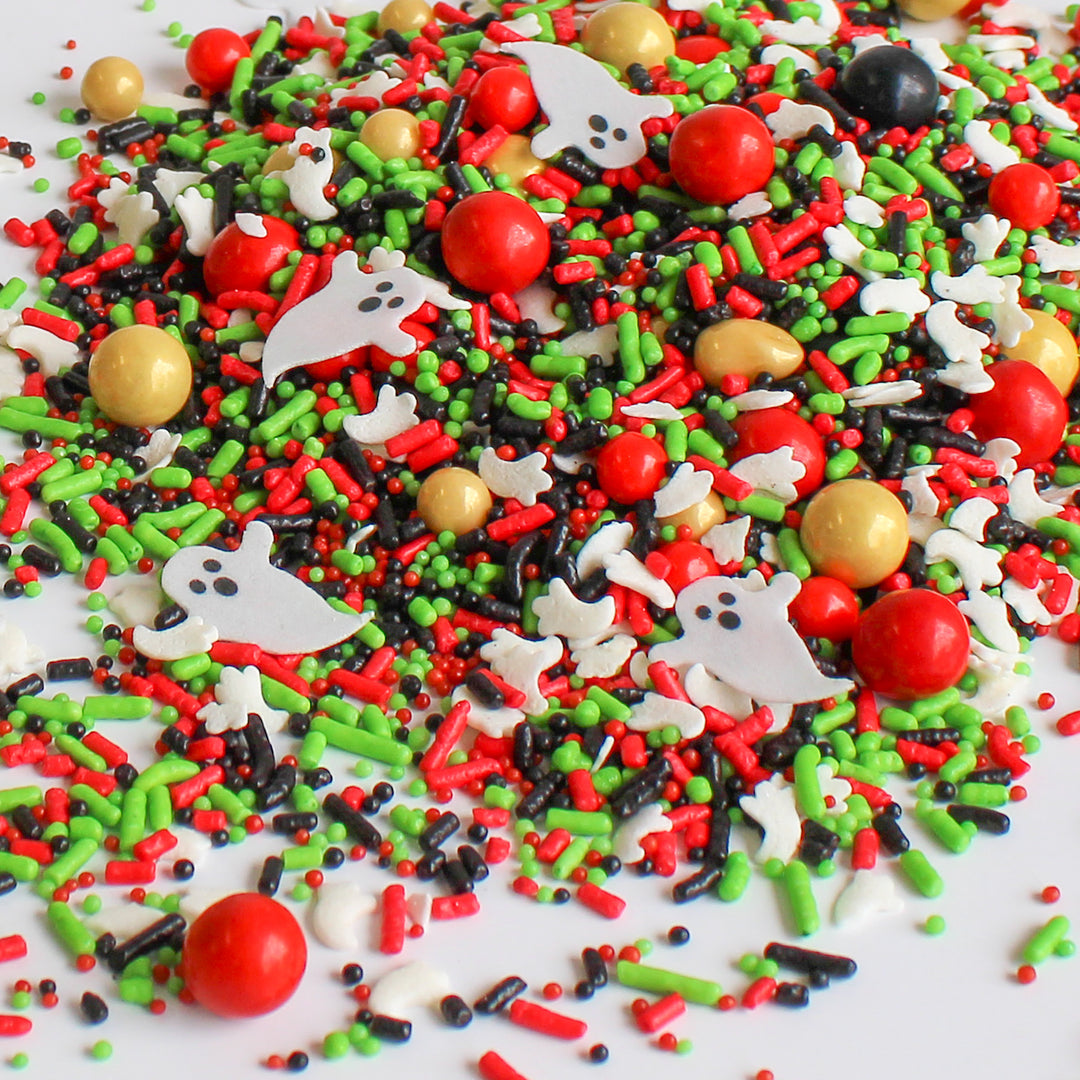 Werewolf
Awaken the mystique of the full moon with our Werewolf Sprinkle Mix. Deep navy, dusty blue, and striking yellow hues interplay with the enigmatic black and silver, summoning the essence of a moonlit night. Wafer werewolves in moons prowl among the sprinkles, ready to transform your treats into howling masterpieces. Perfect for cake decorating, cookies, ice cream, and cupcakes, this mix captures the spirit of the untamed.

Inspo: Teen Wolf