Gingerbread house Instructions & Ingredients
Royal Icing Instructions
1. Start by making the royal icing. Put the royal icing mix in the bowl of your stand mixer, using the whisk attachment. Alternatively, you can use a hand mixer.
2. Add 3-4 tablespoons of water to the mix and blend it on low until the icing becomes smooth. If needed, add more water to achieve your preferred consistency.
3. Increase the mixer speed to high and let it whip for about 7 minutes until stiff peaks form.
PRO TIP: To make your royal icing extra strong, substitute egg whites for some or all of the water!
4. Put your royal icing into a piping bag.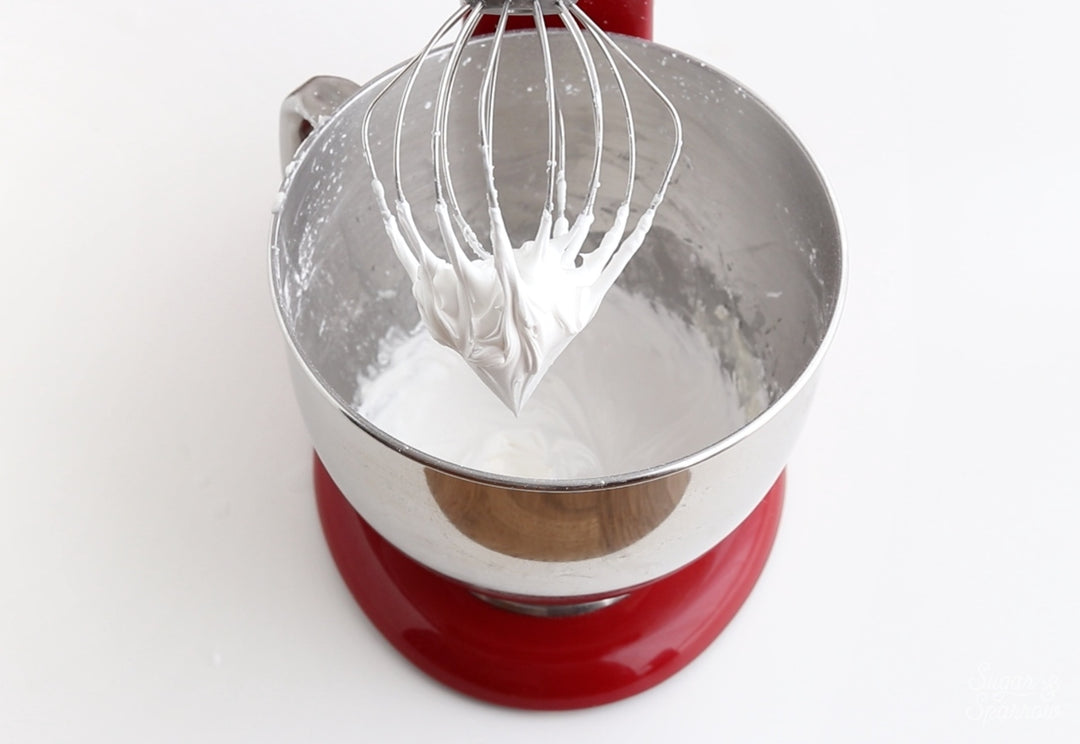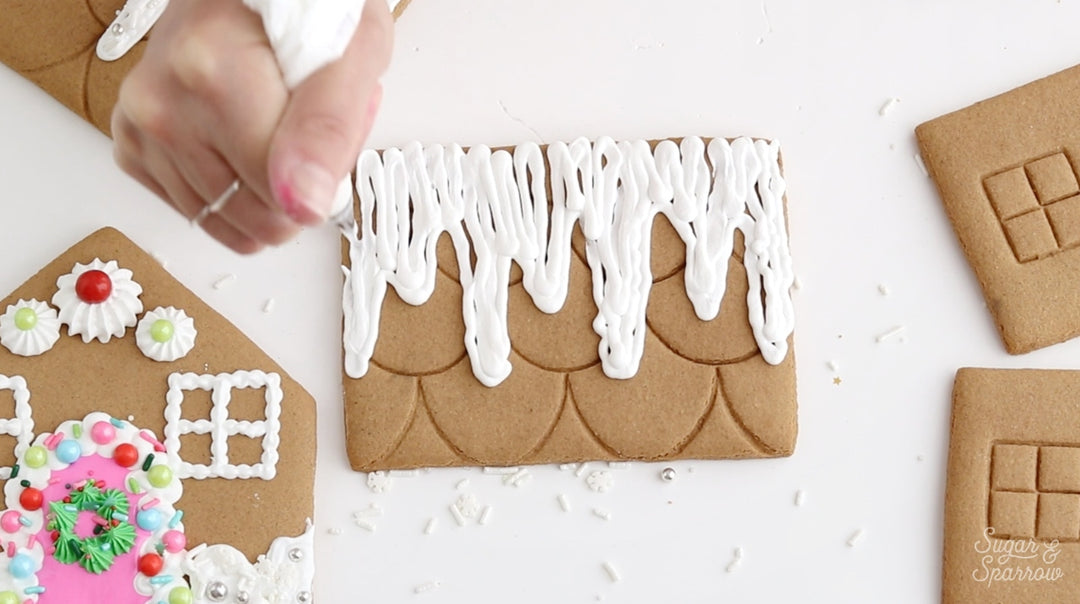 Let's Decorate!
5. Decorate your panels
PRO TIP: Decorate your gingerbread pieces while they are flat. Allow them to dry for 1-2 hours before assembly. Store your royal icing bag for later assembly by placing it in a zip-top bag, and removing the air to prevent drying.
Time TO Assemble!
6. Once your gingerbread house pieces are dry, it's time to assemble them.
7. Take a piping bag with about a 1/8-inch opening snipped off the end.
8. Apply a line of royal icing along the edge of the side piece that connects with the front of the house.
9. Add another line of royal icing along the side of the front piece that connects with the side piece.
10. Press them together at a 90-degree angle to form the base of your house.
11. Pipe royal icing along the edges of the other side pieces that connect, then press them together to complete the base.
12. Allow the assembled sides to dry for 30 minutes to 1 hour.
13. Once the base of your house is sturdy, it's time to add the roof. Apply royal icing along the top edges of your house and the corresponding edges of the roof.
14. Carefully place the roof on top of the house, securing it with the royal icing.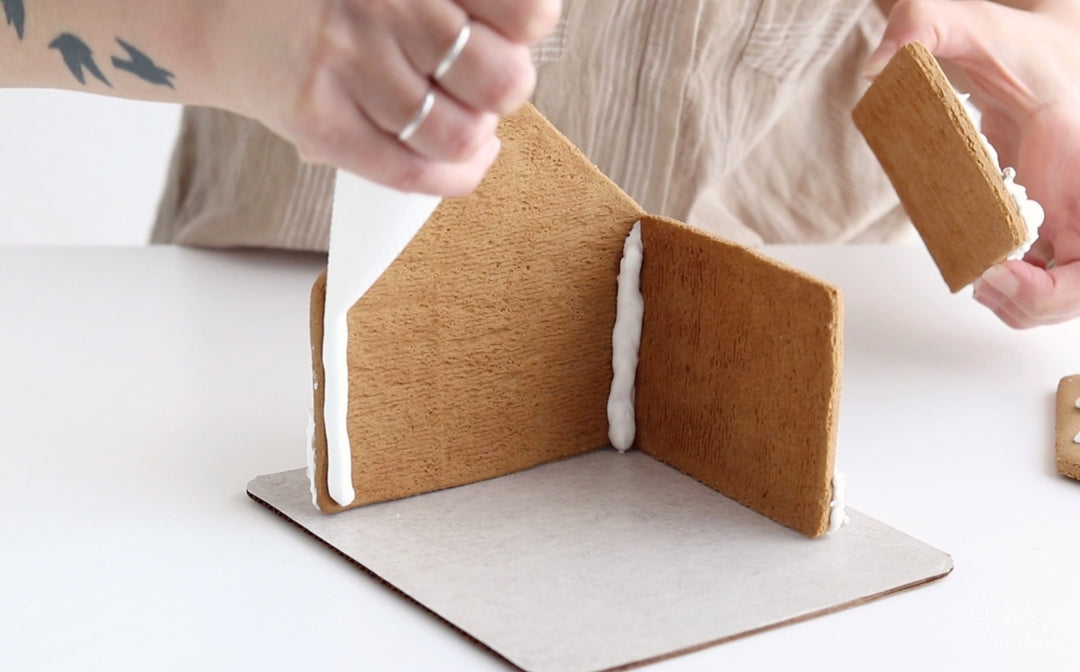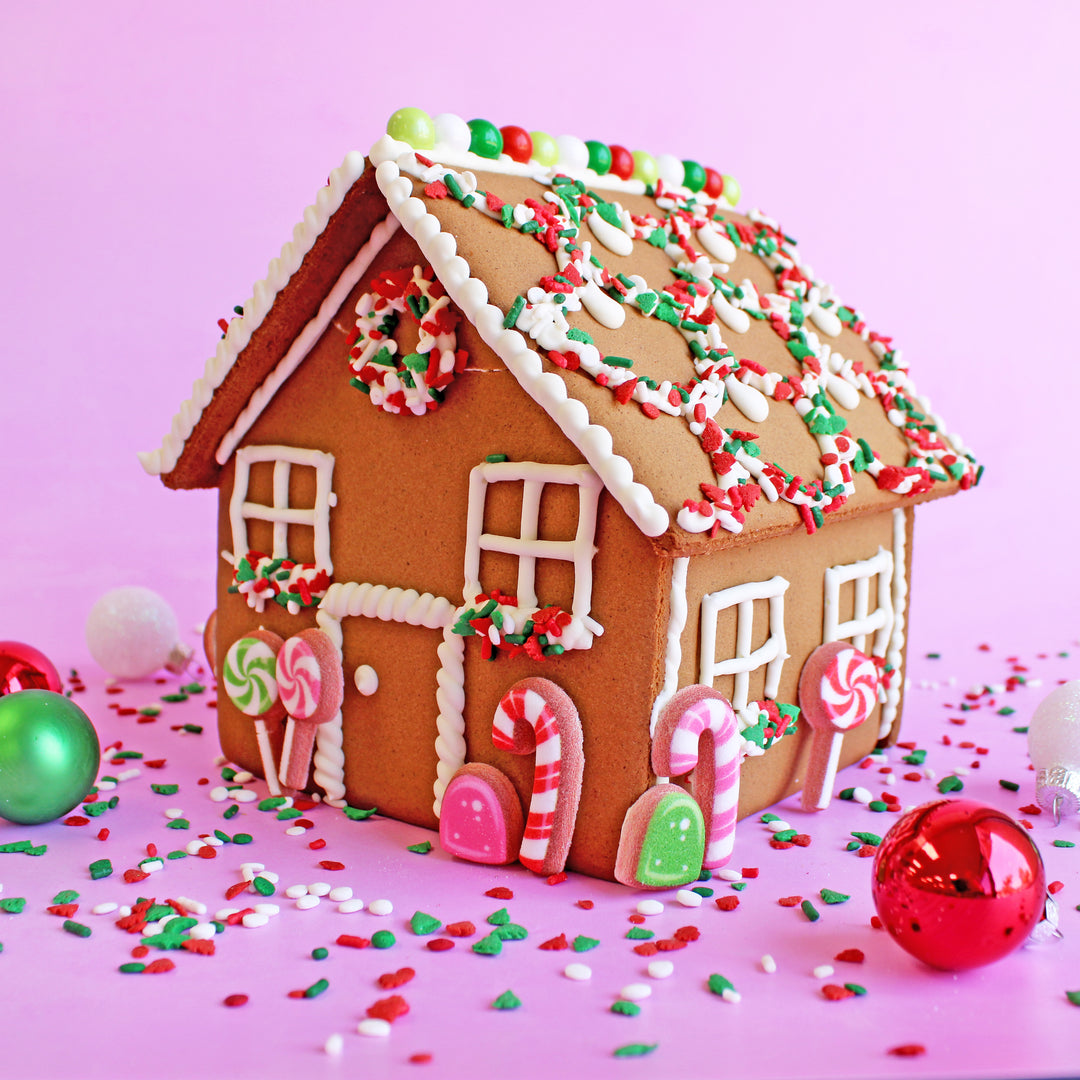 Finishing Touches!
16. Get creative and add your desired finishing touches.
Now you have your beautifully assembled gingerbread house, ready to be enjoyed or displayed!
Allergen Information
Contains: Soy, Milk, Wheat, Egg
Gingerbread House
Bleached enriched wheat (WHEAT) flour, sugar, vegetable oil, shortening, molasses, water, spices, color, leavening, salt, canola oil
Sprinkles
Carnauba wax , confectioner's glaze, corn starch, dextrin, glucose powder, glycerin, gum Arabic, lecithin (SOY), magnesium silicate, natural and artificial flavors, palm kernel fat, sugar, tapioca starch, vegetable oil (palm kernel oil), yellow 5 (e102), blue 1 (e132) , red 3 (e127)
Royal Icing Mix
Sugar, dextrose, dried egg whites (EGGS), contains 2% or less of the following: cream of tartar, sodium alginate, salt, sodium hexametaphosphate, calcium sulfate, locust bean gum, xanthan gum, artificial flavor